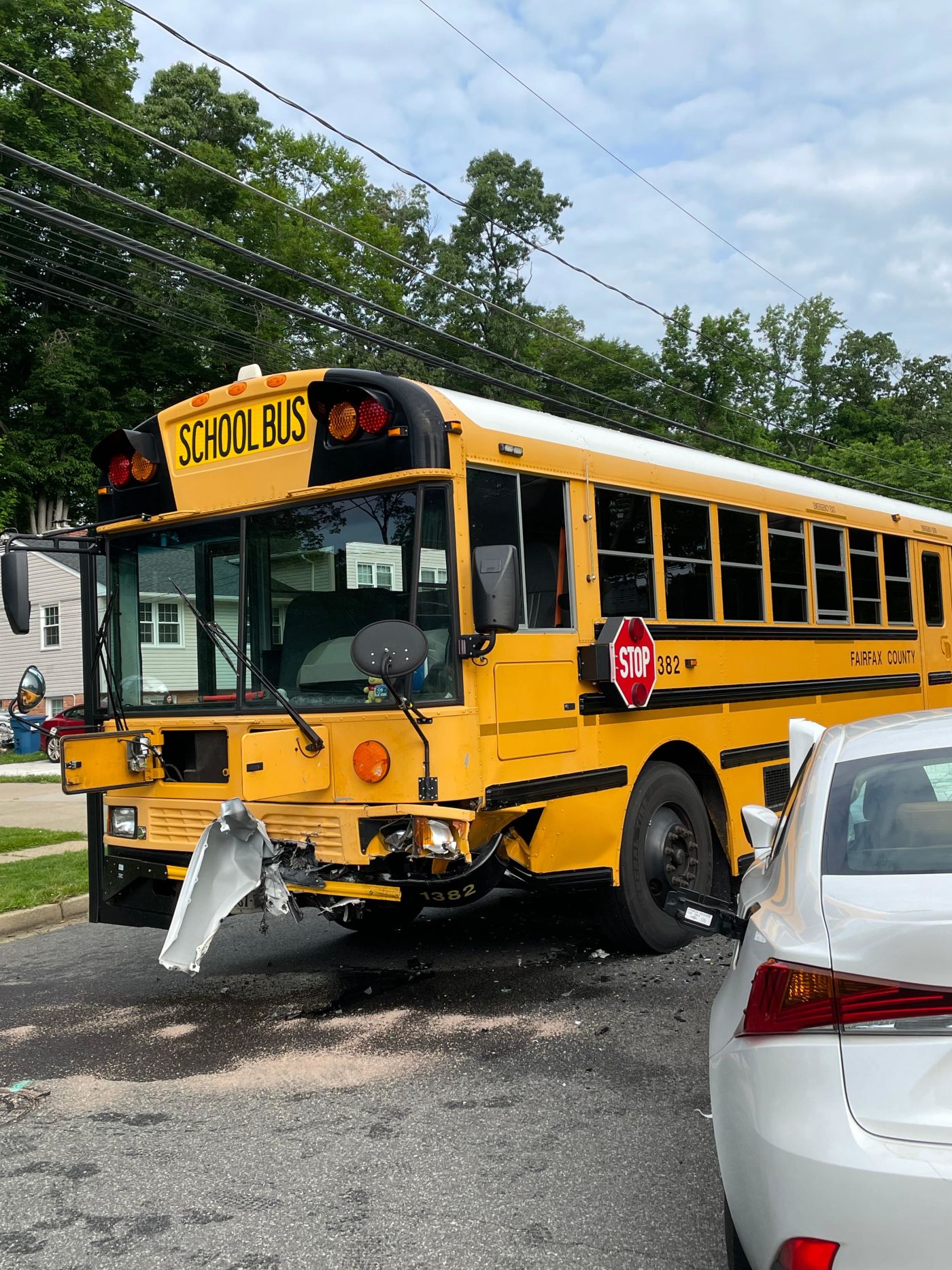 Fairfax County School Bus Struck by Distracted Driver
---
FAIRFAX COUNTY, VIRGINIA - May 16, 2023
Fairfax County Police responded to Inverchapel Road (5200-block) in an unincorporated area of Fairfax County today, at around 8:45 a.m. A county school bus, number 382, has been struck by another car.
A small, white sedan struck the driver-side front of the school bus, causing fluids (fuel, oil, antifreeze, etc) from both the bus and the car to spill onto the roadway.
The driver of the sedan was using a cell phone at the time of the accident. This driver was ultimately charged with using a cell phone while driving, which is an offense under relatively new Virginia law.
No children on the bus were injured, nor was the school bus driver.
The driver of the sedan was reported to have some minor injuries, and was examined by EMS before being issued the citation.
---
Distracted Driving in Virginia
Distracted driving is becoming more and more prevalent on Virginia roadways, and cell phones are no longer the only culprits. Cars and trucks come with "infotainment" systems that display weather, messages, GPS directions, and more. Because of this, Fairfax County car accidents are on the rise.
Cell phones, and the driver systems, together cause drivers to take their time and attention away from the road, which means the rest of the roadway is less safe - other cars, buses, trucks, and pedestrians.
The crash described above was completely preventable, and could have been much worse! Thankfully, none of the children were injured; quite a few Virginia bus accidents have not turned out so well. Many people are involved in serious accidents, and get seriously hurt.
In cases where people are hurt in a distracted driving accident, it is essential to call a Fairfax Car Accident Lawyer right away. Evidence needs to be preserved, witnesses interviewed, and an investigated opened as soon as possible. In this bus crash, for example, the bus's camera footage has to be preserved and maintained, otherwise it will be overwritten after a certain time and lost completely.
It is our job at Blaszkow Legal to get you the compensation you deserve for an accident that was not your fault. We will go after the at-fault party - here, the distracted driver - for everything needed to make you whole again.
If you have been injured in a Fairfax County car crash, call Blaszkow Legal right away - 703-879-5910
---
Note: When creating these blog posts, our team of writers utilizes external sources, including local and state news sources, social media platforms, police accident incident reports, state police accident reports, and at times, eyewitness accounts. Please contact us immediately if you discover any incorrect information so that we can update the post with the most current, accurate information available.
Disclaimer: This post is not a business solicitation, and none of the information provided in this blog post should be interpreted as medical or legal advice. If you have been injured in an accident, seek immediate medical attention and contact an attorney immediately. This post's featured image was not captured at the actual accident scene.
Photo credit: Fairfax County Police Department