FAIRFAX MOTORCYCLE ACCIDENT LAWYERS
If you have been injured riding a motorcycle in Fairfax due to someone else's negligence, you have the right to fight for compensation for your damages and other personal losses that you have suffered from the accident. Most of the time however, it is not easy to fight alone. The at-fault parties and their insurance companies will throw up every challenge that they can to stop you from recovering.

Contact the experienced Fairfax motorcycle accident lawyers at Blaszkow Legal so that we can help you get the justice that you deserve. Our team of attorneys, paralegals, and investigators, led by attorney Joe Blaszkow, are dedicated to holding negligent people accountable.

Blaszkow Legal has the right knowledge and experience to put to work for you. Our team includes attorneys who have fought every single insurance company that does business in Virginia, and paralegals who diligently manage all sorts of motor vehicle accident cases. Our investigator is a retired law enforcement officer who specialized in traffic enforcement and crash investigation.

After a Fairfax motorcycle accident, turn to the team that is going to fight to get you the best results possible. Call Blaszkow Legal today for a free consultation so we can help you get you back on your feet, and back on the road, if possible. Let us fight for you today!
Common causes of Fairfax Motorcycle Accidents
Many motorcycle accidents are the result of inattention and carelessness on behalf of other motorists. Sometimes car drivers will operate their vehicle without any regard for other vehicles on the roadway, including motorcycles. This inattention causes serious accidents. Some of the common causes of motorcycle accidents in Fairfax include:
Drivers failing to use mirrors

Speeding

Following motorcycles too closely

Drivers changing lanes without signaling

Failing to yield the right of way

Running stoplights

Running stop signs

Drunk driving

Distracted driving

Driver fatigue
Some accidents also happen at construction sites, not as the result of negligent action by motorists, but due to the negligence of the construction crews, when some allow construction debris to go flying onto the roadway, or they spill gravel or chemicals on the road that can cause a motorcycle to crash.
Common injuries after Motorcycle Accidents
Motorcycle accidents tend to be very severe, because a motorcyclist is often unprotected, except for a helmet. You don't have the benefit of the frame of a car protecting you, or airbags, or anything else that car drivers take for granted. Common injuries include:
Traumatic brain injuries

Broken bones

Burns and road rash

Puncture injuries

Degloving injuries

Whiplash

Sprains and strains of muscles

Torn muscles

Nerve damage

Crush type injuries
The law for Virginia motorcycle riders
The law in Virginia poses specific requirements when you are riding a motorcycle on a Virginia roadway. Most of these laws are designed to help keep you as a motorcyclist safe, or to hopefully lessen any injuries if they do occur. Many of the state's motorcycle laws are found in Section 46.2-910 of the Virginia Code, which includes:
Universal helmet law. Virginia requires all operators of a motorcycle to wear a helmet approved by the US Department of Transportation. Some people don't like helmet laws, but the law is in place to help protect motorcyclists in the event of accidents, because most motorcycle accidents happen aren't the rider's fault, but that of other motorists.

Goggles are required. Motorcycle riders in Virginia must have some form of eye protection such as goggles or a face shield on the helmet itself. However, if the motorcycle has a windscreen on the front of it, goggles are not required.
Motorcycle insurance in Virginia
Virginia law sets out the minimum insurance requirements for motorcycles that are registered in the commonwealth. These minimum insurance limits are the same as on Motor Vehicles and as of this year, are $30,000 per incident, $60,000 per incident (said 30/60).

On January 1st of 2025, the limits will increase for all insurance policies to $50,000 per person, $100,000 per accident (50/100).
Is this insurance coverage enough?
It is the opinion of Blaszkow Legal that the answer is no. You have to consider that motor vehicle insurance is a two-part equation. The insurance that you get protects someone else in the event that you cause an accident. That is what your bodily injury liability protection does. However, those same numbers such as 30/60, are also your uninsured or underinsured motorist coverage in the event of an accident.
Consider this: The average emergency room bill, with minimum imaging, is about $5,000. However with as little as four CT scans (usually called CAT scans) that bill can increase to $20,000. So imagine that you, as a motorcycle rider, are hit by an uninsured motor vehicle, and you are seriously injured. If the at-fault driver has no insurance coverage, you may be limited to the $30,000 of your own uninsured motorist coverage! Generally that is not going to be sufficient if you are involved in a motorcycle accident!

If you're not sure what kind of insurance coverage that you have, or you have any questions about your limits, call Blaszkow Legal for a free insurance review today.
WARNING - many insurance agents tell their clients that they have "full coverage." This is a misnomer, due to a misunderstanding of the law. "Full coverage" often means that the insured is fully compliant with the law, meaning the insured has the minimum, not the maximum, of insurance coverage available!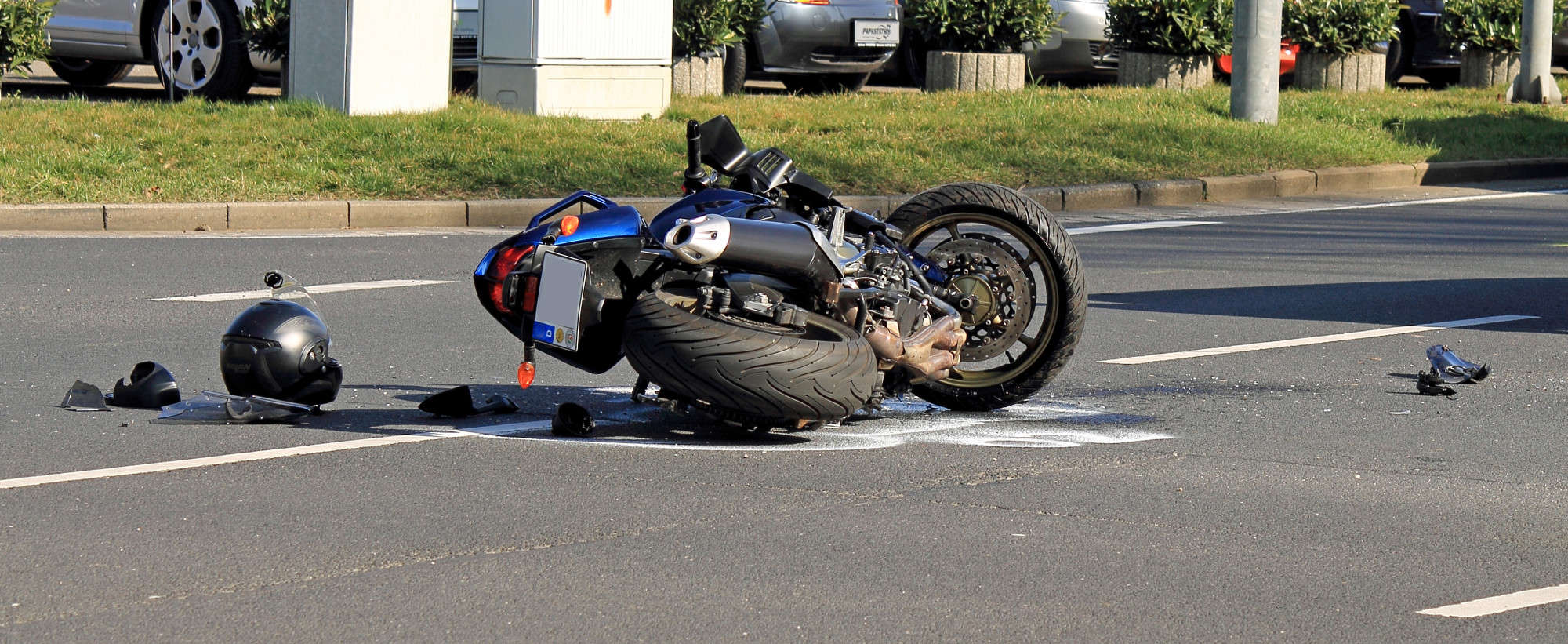 Lane splitting
The practice of lane splitting is when a motorcyclist tries to drive on a lane divider line, generally between rows of cars. This is not permitted under Virginia law. It is also an extremely dangerous practice, because cars, trucks, and other vehicles may change lanes, without warning.

Because this practice is a violation of Virginia law, if you are involved in an accident while Lane splitting, you may not have a legal claim in Virginia. This is due to Virginia's contributory negligence law.
Contributory negligence and Fairfax Motorcycle Accidents
All accidents and personal injury claims in Virginia are governed by a legal principle known as contributory negligence. We sometimes refer to this as the 1% rule. This means that if you have been involved in an accident, but the insurance company can allege that you are in some way responsible for the happening of the accident, then you cannot recover - at all. Contributory negligence acts as a total bar to recovery.

This is a high standard to meet, and this is why it is so important to speak to an experienced Fairfax motorcycle accident attorney after a collision. The insurance companies will use anything they can to allege that you have been in some way responsible for the accident. If they can make this argument stick, they can defeat your claim.
Liability and Fairfax Motorcycle Accidents
As soon as you become our client, we begin to investigate not only how the accident happened but also who is responsible for it. We review the collision comprehensively and we review the at fault parties in detail. Sometimes there are hidden parties whose negligence may have contributed to your accident. It is vital to make this kind of deep dive into insurance coverage, if your injuries exceed the policy limits available at a glance.

Here are some examples of other people and entities who may have some insurance exposure after a motorcycle accident:
Other drivers

Drivers employers

In the event of a defect, manufacturer of tires or motorcycle parts

A government entity or agency responsible for maintaining a road, or salting or de-icing

Dispatching services in the event of a truck-involved crash

Freight companies and Freight shippers
What you can claim after a Fairfax Motorcycle Accident
After you have been in a motorcycle accident, you are entitled to compensation for your damages. Damages is a legal term that means all of the injuries that you suffered and all of the ways that this accident has impacted you financially, emotionally, and personally. Some elements of your damages include:
Time lost from work

Future lost wages

Expenses for medical treatment and rehabilitation such as surgeries, hospital visits, ambulance transport, etc.

Prescription costs

Future medical expenses, if applicable

Loss of future earning capacity

Pain and suffering

Emotional distress

Loss of enjoyment of life

Diminution of quality of life

Property damage

Diminished value of property (such as the motorcycle itself)

Repair costs
Statute of limitations for Motorcycle Accident claims in Virginia
Fairfax motorcycle accidents are considered personal injury claims at law. Virginia code 8.01- 243 states that you have two years from the date of an accident to file a lawsuit for your damages.

If you have a loved one who has been killed as the result of a motorcycle accident, then you are entitled to pursue a wrongful death claim. The two-year period runs from the date of death, not the date of the accident.

Please bear in mind that there are other deadlines that have to be monitored, not just the two-year limit. If your motorcycle accident was caused by a government vehicle, then there are notice headlines in which formal notice of the potential claim has to be filed. This is true whether the at-fault party is a local government worker, state vehicle, or federal vehicle. Contact an experienced Fairfax motorcycle accident lawyer immediately after the accident.
Talk to a Fairfax Motorcycle Accident Attorney immediately
If you have been injured in a motorcycle accident that was the result of the negligence of another party, then you deserve compensation for your injuries. Help us to hold the negligent parties responsible, and let us fight for you today. Get Justice with Joe Blaszkow, and set his team to work today, fighting for you.
Call us for a free consultation at 703-879-5910!
Get Justice with Joe!
Attorney Joe Blaszkow leads a team of lawyers and staff who are all dedicated to helping our clients achieve the best outcomes possible.

We work on a contingency-fee basis, so we don't get paid if you don't collect money.

Call now: 703-879-5910.

The insurance companies have lawyers fighting hard to protect them - shouldn't you have someone fighting just as hard, for you?