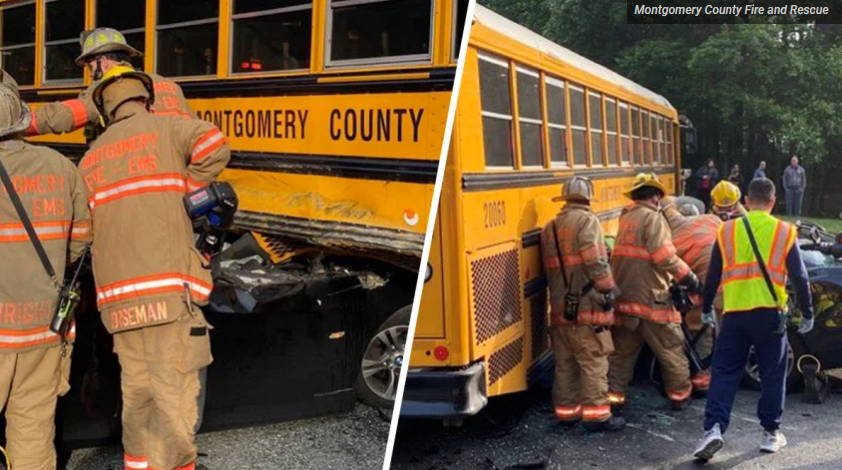 Montgomery County, MD - School Bus Accident Causes Injuries
---
MONTGOMERY COUNTY, MD - MAY 19, 2023
Near Montgomery Village, in the area of East Village Avenue and Plum Creek Drive in Gaithersburg, a Montgomery County School Bus was involved in a car accident with a small, black sedan.
Six children were on the bus at the time of the crash, and it is not clear if the bus driver was injured.
The car, a BMW 328xi, that was involved became wedged under the passenger's side of the bus, and had to be extricated by the Montgomery County Fire and Rescue Service.
At least two people have been critically injured, and are both believed to have been occupants of the small black car. One of those injured was a child. Both were transported to local hospitals, and their injuries are described by Montgomery County Police officials as "life threatening."
No information has been released at this time on how the accident happened.
This is the second accident this week involving a School Bus in the DC Metropolitan Area.
Photo Credit: Montgomery County Fire and Rescue Department
UPDATE/EDIT - this article has been updated, as new information confirms that children were, indeed, on the bus at the time of the crash.
- Additionally, it has now been released that the school bus was turning left onto Plum Creed Drive, when it was struck by the BMW.
---
School Bus Accidents in Maryland
School Bus accidents have the potential to be severe, because these buses are designed to transport upwards of forty children at any one time. When a school bus is involved in an accident, most fire departments automatically classify these crashes as "MCI"s, or "Mass Casualty Incidents" so that they can ensure the right resources get to the scene, as quickly as possible.
School Buses have specific safety measures to protect the students, but only the driver has a seat belt. Federal law does not require seat belts in school buses for passengers.
Did you know, for example, that the three black lines on the side of a school bus are there to show the fire department where they can safely cut, when necessary?
When Someone Else Hits the School Bus
Most school bus accidents are caused by other motorists, from car drivers to truck drivers, failing to pay full time and attention to the roadway, and failing to see the school bus. Many school buses are rear-ended by other vehicles.
In these instances, the passengers of the school bus (and even the driver) may have claims against that motorist, if they are hurt. Passengers are generally legally blameless in any bus accident, so long as they did not interfere with the operation of the bus itself.
Passengers on a school bus who are injured need to speak to a Maryland Car Accident attorney right away, because the insurance coverage available is likely to be limited. The at-fault driver is required to have liability insurance, but the insurance limits of that policy are likely to be insufficient, because so many claims will be asserted by all of those people injured.
When an at-fault driver has insufficient car insurance, the claims become uninsured motorist claims, which work like uninsured motorist claims.
When School Buses Cause Accidents in Maryland
While they are usually rare, there are accidents caused by school bus drivers (though, at this time, there is no reason to suspect that the driver in the above-accident has been found to be responsible). These accidents are usually caused by accidental or negligent driving by the school bus driver, such as improper turning, or failing to yield at intersections or merges.
Most school bus drivers are superlative drivers, but the incidents do happen.
When a school bus is the cause of an accident, and some one is injured in the resulting car accident, the injured person has a claim against the school district, or bus operator (as some school buses are operated by private contractors). Claims against school buses are usually governed by the Local Government Tort Claims Act in Maryland.
Call An Attorney Right Away
If you have been injured in a Maryland School Bus Accident that was not your fault, call an attorney who knows the ins and outs of the law, and knows how to fight the insurance companies for you and your loved ones. Get Justice With Joe - call Blaszkow Legal today: 703-879-5910
---
Note: When creating these blog posts, our team of writers utilizes external sources, including local and state news sources, social media platforms, police accident incident reports, state police accident reports, and at times, eyewitness accounts. Please contact us immediately if you discover any incorrect information so that we can update the post with the most current, accurate information available.
Disclaimer: This post is not a business solicitation, and none of the information provided in this blog post should be interpreted as medical or legal advice. If you have been injured in an accident, seek immediate medical attention and contact an attorney immediately. This post's featured image was not captured at the actual accident scene.