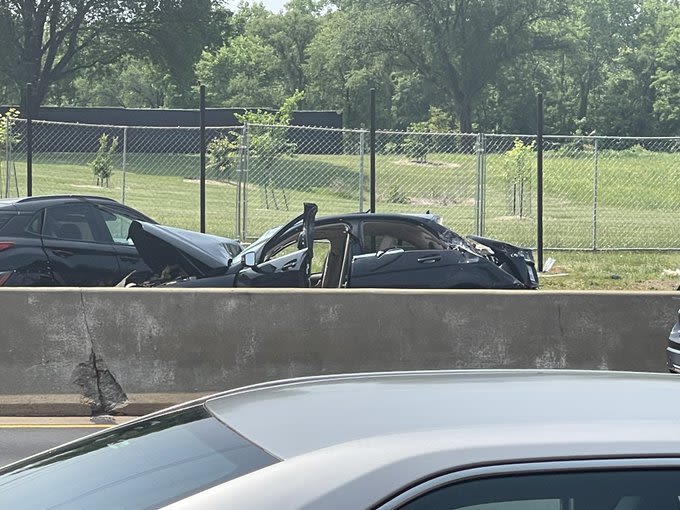 DC - 4 PEOPLE INJURED IN MULTIPLE-CAR CRASH
---
WASHINGTON, DC - May 22, 2023
Four vehicles were involved in a large, multiple-vehicle car accident this morning in NE DC. The accident happened just after 10:45 a.m., and involved a total of four SUVs and sedans. The incident was on the 2800 block of Blandensburg Road, just after New York Avenue, in the area of the National Arboretum.
Originally, bystanders said that a dump truck was involved, but this was later corrected.
4 people have been hurt, one of whom was a boy of only 10 years old. When first responders arrived, he was found to be unconscious, but breathing. The other three injured people were adults, and all were transported to local hospitals.
The child was air-lifted to a critical care hospital via helicopter.
Many of the vehicles involved had their airbags deployed, as some vehicles appeared to have been pushed into others, ahead.
The exact sequence of the crash is not yet known, and the accident is under active investigation by the DC Metropolitan Police.
---
Multiple-Vehicle Accidents in DC
Car accidents involving more than 2 vehicles can get very difficult from an injury claims-perspective, because of so many varying versions of events. Each person involved usually remembers what happened to him or her, but then someone has to stich each of these recollections together into a coherent narrative. Unfortunately, insurance companies work very hard to suggest that individuals were each partly responsible for these accidents.
Because DC, like Virginia and Maryland, practices the doctrine of contributory negligence, the insurance companies have great success is minimizing, and eliminating completely, people's car accident claims.
If you have been involved in a multiple vehicle car accident, you need an aggressive, experienced DC car accident lawyer who is ready to fight, and won't let the insurance companies drag things out for their own benefit.
Causes of "Pile-ups" Or Multi-Car Crashes in DC
Especially in rush-hour traffic, when cars are stacked next to and in front of each other, simple accidents can impact numerous drivers. Often, these causes are preventable, but most have common threads as to how they happened:
Running Stop Lights or Stop Signs

Improper Lane Changes

Aggressive Driving

Failing to Yield

and more
If you or a family member has been involved in a multiple vehicle car accident, call an attorney right away. The insurance companies have adjusters and lawyers that get to work immediately to reduce your claims - you need someone who is fighting just as hard, and just as soon, to get you the compensation you or your loved ones deserve. Get Justice With Joe - call Blaszkow Legal today for a free consultation: 703-879-5910
---
Note: When creating these blog posts, our team of writers utilizes external sources, including local and state news sources, social media platforms, police accident incident reports, state police accident reports, and at times, eyewitness accounts. Please contact us immediately if you discover any incorrect information so that we can update the post with the most current, accurate information available.
Disclaimer: This post is not a business solicitation, and none of the information provided in this blog post should be interpreted as medical or legal advice. If you have been injured in an accident, seek immediate medical attention. This post's featured image was not captured at the actual accident scene.