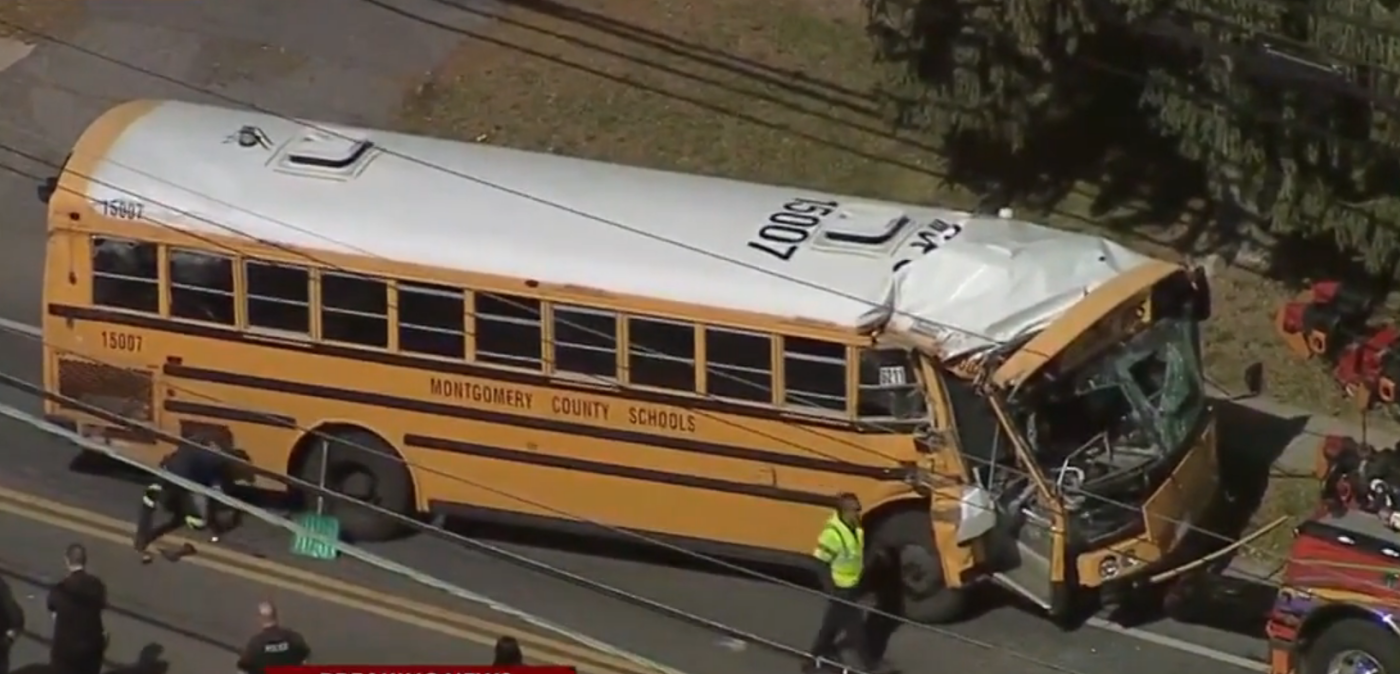 4 Students Injured in Montgomery County School Bus Crash
---
Silver Spring, Maryland
A Montgomery County School Bus was involved in a motor vehicle accident today in Silver Spring. The collision occurred near the 13000 block of Old Columbia Pike this morning, shortly after 9am. At the present time, only one vehicle is reported to have been involved.
The Montgomery County Police stated that 4 children were transported to local hospitals for evaluation. The bus driver was also taken to a hospital for evaluation. While all 5 were injured and transported, their conditions were described as "non-life threatening."
No information has been released about the cause of the incident. However, pictures of the bus suggest that the front-right side of the bus did come into collision with an object that caused considerable crumpling of the forward compartment, ahead of the front wheels.
County Police officials are still investigating the incident.
As reported by: https://www.nbcwashington.com/news/local/school-bus-crash-injures-5-kids-1-adult-in-montgomery-co/3334777/#:~:text=A%20school%20bus%20crashed%20in,police%20said%20in%20a%20release.
---
Bus Accidents
Accidents involving buses can be very serious. Buses are designed to transport a lot of people at once, and to do so safely. Most do, without issue. However, when accidents happen, a large number of passengers can be hurt, or worse.
Common Causes of Bus Accidents
Bus accidents can be caused by almost anything, just like car accidents. Many bus accidents, however, are not the result of improper operation on the part of the driver, but due to the actions of speeding, or aggressive car drivers. Buses, like trucks and trains, cannot stop on a dime. People merged in front of buses and then stopping are very likely to be hit. This is a kind of rear-end collision that is not always the fault of the striking vehicle.
Some bus accidents do result in fatalities, but data shows that these numbers are actually going down, in Maryland.
Injuries Suffered in Bus Accidents
People injured in bus accidents can suffer a wide array of injuries, including:
broken bones

head injuries

back pain

neck pain

blunt force trauma (from being struck by debris or baggage, or being thrown into another seat, etc.)
These injuries often require hospitalization, and at least require examination by trained medical professionals. It is never a good idea to "shrug off" an injury, because something that may be nothing now, could grow into something dangerous later on. Always get checked out - for your own safety!
What To Do After A Bus Accident
After a bus accident, you need to contact an experienced attorney right away. Maryland law controls when we speak about things such as statutes of limitation, which is the time in which a claimant has to file a lawsuit. For Maryland bus accidents, this is 3 years.
However, not all accidents are the same, especially when dealing with buses. Many buses are government-operated, which means that the time you have to file a claim is considerably reduced, depending on the level of government. For example, if the bus is owned by the State of Maryland, then the Maryland Tort Claims Act would apply, which means that a notice of claim must be filed within only 1 year of the crash. These legal nuances can be very complicated - speak to a Maryland bus accident lawyer at once.
If you have been involved in a Maryland bus accident, call Blaszkow Legal today: 703-879-5910