REAR END COLLISION ATTORNEYS IN VIRGINIA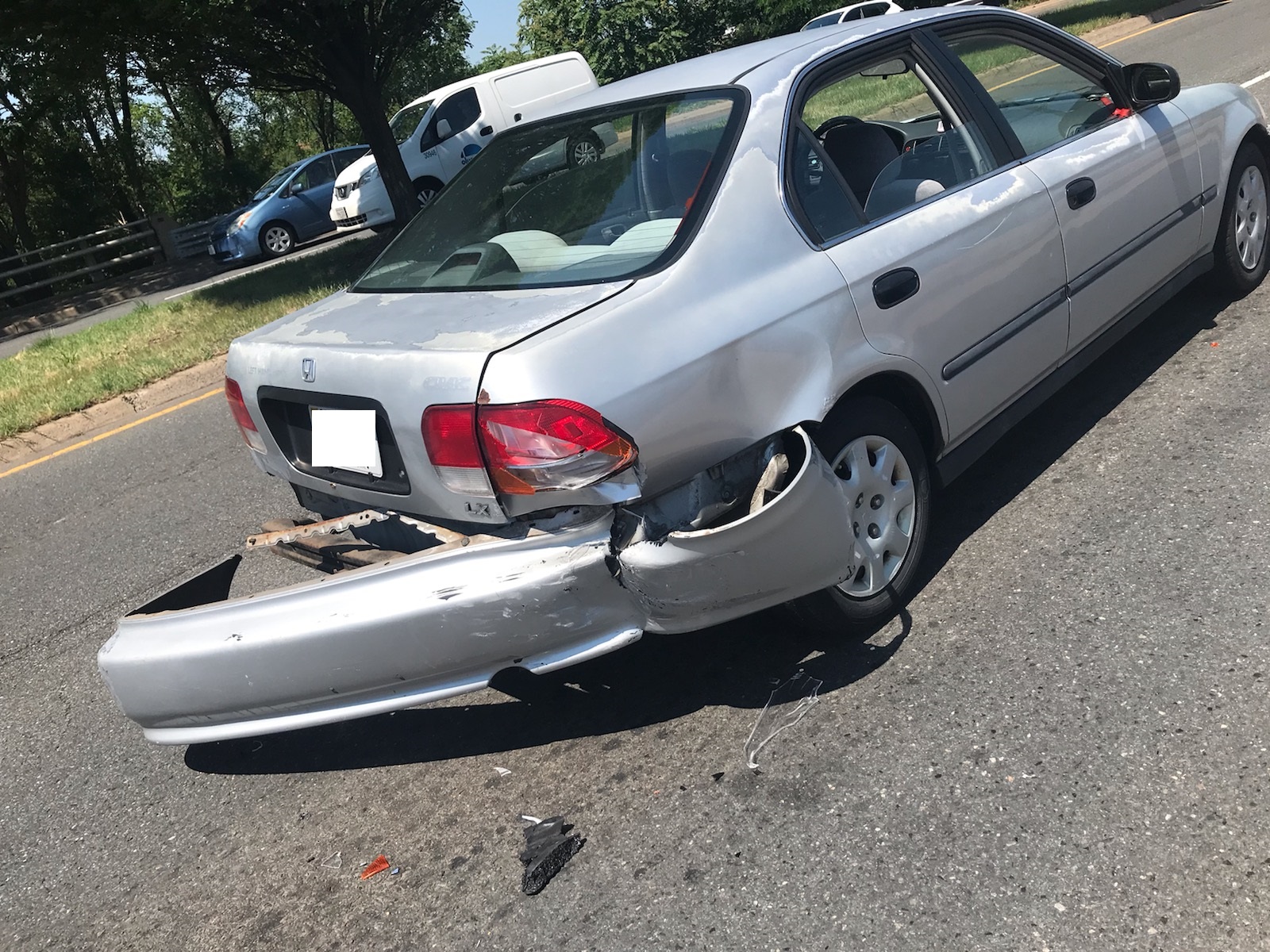 Rear-end car accidents are the most common type of motor vehicle collision that we work in this office. It is estimated that there are over 1.7 million rear-end collisions a year in the United States! These collisions can range from moderate, with modest property damage, to serious crashes where a stopped vehicle is pushed into another vehicle ahead. These crashes can results in serious injuries to the drivers and the passengers.
If you have been involved in a car accident in Alexandria or anywhere in Virginia, call Blaszkow Legal today for experienced representation - we can make sure that the negligent parties are held responsible, and we can fight to get you the compensation that you deserve!
Liability in Alexandria Rear End Collisions
If you have been stopped, and then struck from the rear by another motorist, more often than not, that driver is going to be liable for that accident, and also any injuries that are caused.
Most rear end crashes happen
At stop lights

At stop signs

When trying to turn

In stop-and-go traffic

On roads where the speed limit changes
However, not all rear end collisions are the fault of the vehicle in the back. Under limited circumstances, there are situations when the rear ended driver may be liable also! For example, a driver who abruptly changes lanes without signaling, in front of another vehicle, may then be rear-ended himself. That driver (who changed lanes, and was rear ended) may be liable for that accident.

Of course, that is the exception. Most rear-end collisions, especially those that traffic lights, are the fault of the striking driver (or vehicle behind).
Causes of Rear End Collisions in Virginia
The most common causes of rear end accidents include:
Weather. Some people overdrive roadway conditions, or they simply do not pay enough attention to how road conditions change in the event of rain and snow. When the road becomes slick, the stopping distance that you need for a vehicle expands or increases. People that drive without compensating for this expanded distance, may try to stop like normal, and will often slide into the vehicle ahead.

Distracted driving. People who turn their attention away from the roadway, and instead put their attention on to cell phones, text messages, internet alerts, or information systems, will impair their own reaction time, and smash into stopped vehicles.

Drunk driving or other impairment. A driver who is impaired by alcohol or drugs has a delayed reaction time, and often a delayed perception of the roadway. Sometimes they do not see the traffic lights, let alone the vehicles that are stopped ahead of them. Because of that, sometimes these drivers don't even slow down, let alone attempt to stop, which results in very serious injuries.

Stop and go traffic. Many drivers get impatient in Beltway traffic, and will smash into the vehicles ahead, because these drivers are not watching the road closely enough. They will not see other cars directly ahead of them which have to slow down or abruptly stop.
Injuries Caused by Virginia Rear End Collisions
If your vehicle has been struck from the rear, often your body is pushed forward, and then snapped back due to the restraint of a seat belt. These injuries often cause with the insurance companies call "soft tissue injuries."

However, the injuries that can be sustained in a rear-end collision are more than just the soft tissue injury described above. They include:
Whiplash injuries

Injury to neck and back

Sprains and strains of muscles

Contusions/bruises on the chest

Head injuries

Concussions

Laceration

Injuries from debris or flying objects

Post-traumatic headaches

Post-traumatic anxiety

Fractures
Virginia Law and Rear End Car Accidents
All drivers are required to keep their eyes on the roadway. They are required to pay full time and attention to the road, maintain a safe following distance, and to obey all other laws that are in effect.

One of the most common violations that we see in rear-end collisions in Virginia, is that a negligent driver 1) followed too closely and 2) failed to pay full time and attention to the roadway. This citation is often by police officers who believe that if the driver in the back had been paying attention, they wouldn't have smashed into the vehicle ahead.

One of the most important things to remember in Virginia is that we have a contributory negligence law. This means that if the insurance company for the at-fault party can allege that you, the person who were injured, was even 1% responsible for the accident, they can deny your claim. This is a very high bar, and it is different than the laws in the rest of the country. In most other states, they practice a law called "comparative negligence." But Virginia, just like Maryland and dc, has this 1% rule. Contributory negligence is one of the easiest ways for an insurance company to attack your claim, even in something is relatively straightforward as a rear-end collision. This is one of the main reasons you need to speak to an attorney right away!
The Insurance Claims Process After a Car Accident
Once you have been injured in an accident that was not your fault, you need to contact an attorney right away, so that we can begin developing the evidence of your claim and begin protecting your rights. We will never allow the at fault insurance company to speak to you.

Unfortunately, insurance companies will take advantage of unrepresented parties. They will often convince people to take recorded statements, which they will then try to use to attack your claim either in total, or in part.

Once you engage an experienced car accident lawyer, we will stop them immediately. Any communications will go through our office, so that we can make sure that your claim is preserved, and your rights are protected.

Once you are all finished with your medical treatment, we will assemble a settlement demand package which we send off to the insurance company. The insurance companies utilize very complicated computer software, which is a derivation of the Colossus System. This system will read your medical records, and will then begin assessing the value of the case. Their computer systems assign actuarial values to everything: being administered a Tylenol will be valued at X, while being given an ibuprofen is valued at Y.

Usually, within 30 to 60 days of sending the demand package, we will hear from the insurance company with their official position. This is where negotiations begin.
Damages From a Rear End Car Cccident - What is the Case Worth?
After an accident, you have the ability to file a claim for compensation. This compensation is referred to in legal terms as your "damages." Damage is fall into two separate categories, economic damages and non-economic damages.

Economic damages are easily quantifiable, through documentary evidence. Non-economic damages have to be proven through testimony, and are not easily illustrated. These are things such as pain and suffering.

Elements of your damages include:
Pain and suffering

Future medical expenses

Medical expenses such as hospital treatment

Post-traumatic anxiety

Time lost from work

Future lost wages

Loss of earning capacity

Emotional distress

Inconvenience
Contact an Experienced Virginia Car Accident Lawyer Today
Attorney Joe Blaszkow and his team already to help you, to protect you at every step of the process. Insurance companies know that 70% of the people who are involved in car accidents will not contact a lawyer. This is not a good thing, as the insurance companies are not required to tell you what you can claim. The less you know, the better off they are! Call someone who is working for your best interests - not the insurance company's.

Protect yourself, and call Blaszkow Legal today for a free consultation!
Alexandria/Northern Virginia Office:
5270 Shawnee Road #102, Alexandria, Va. 22312
703-879-5910
Richmond Office:
7824 Shrader Road, Richmond, Va. 23294
804-273-8929
Hablamos Espanol!
Get Justice with Joe
Call Attorney Joe Blaszkow and the team at Blaszkow Legal today! We have over 40 years' experience fighting insurance companies to get you the compensation you deserve for your injuries.

We handle cases in Arlington, Alexandria, Fairfax, Richmond, Fredericksburg, Henrico, Chesterfield, and more!