CAUSES OF CAR ACCIDENTS IN VIRGINIA
Car accidents are among the number one causes of death for people under 40. Upwards of 30,000 deaths are caused every year as a result of these car accidents. There were 678 fatal car accidents in Virginia in 2021. Each of these accidents (the non-fatal ones) drastically impacts a person's life from injuries, time lost from work, inconvenience, and general interruption in the flow of life. Fatal accidents, obviously, cause dramatic and tragic interruption to families and the family members who now have to try to cope with life without the presence of a loved one.
Car Accidents are caused by numerous factors, from carelessness to recklessness to simple negligence. These are some of the more common causes of car crashes:
Driving Under the Influence of Drugs

Following too closely

Aggressive Driving
Most collisions are completely preventable. If all drivers gave themselves an extra ten minutes on their trips, and adhered to all traffic laws, and paid full time and attention to the roadway in front of them, most Virginia accidents would not happen.
Drunk Driving in Virginia
Driving under the influence of alcohol and drugs is among the most dangerous conditions that exist on the road, and one that innocent drivers cannot account for. DUI is not a mere traffic offense, but a crime punishable by imprisonment if convicted. DUI drivers can face the loss of their drivers license as an additional penalty. 2022 saw alcohol related crashes increase to over 6,700!
DUI drivers cause some of the most horrific crashes in the state, due to severely impaired response times and inability to distinguish lines, signs, and other traffic control devices. Drunk drivers can cross the double lines and strike oncoming cars, and cause other vehicles to veer off the road, strike trees, and otherwise wreak havoc on Virginia roads. Because DUI drivers can sometimes not differentiate traffic lights, they also cause serious incidents at collisions, which includes striking pedestrians who are using their lights, and within the crosswalk.
DUI driving is incredibly reckless and has long ranging consequences. While the DUI driver will usually be arrested, and punished, this does not bring justice to the people that driver hurts and harms along the way.
Thankfully, Virginia law does have mechanisms to help people injured by drunk drivers get justice. Virginia is a jurisdiction that allows a plaintiff to recover their regular damages, and also get punitive damages against the drunk driver. Attorney Joseph Blaszkow Was one of the first lawyers in Virginia to obtain punitive damages against a drunk driver, after the law was passed, and has been doing so for his clients ever since!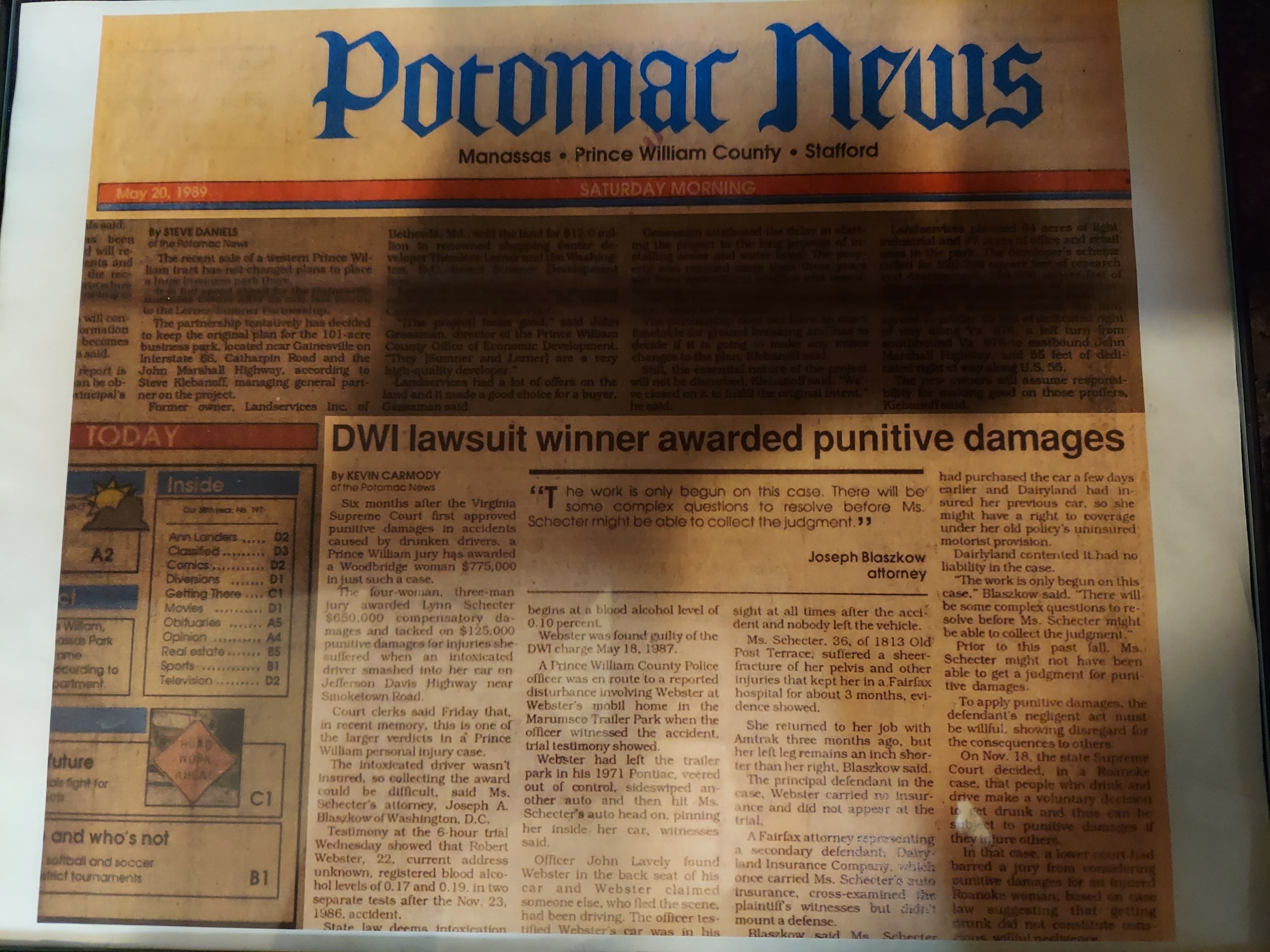 Danger of Distracted Driving in Virginia
Distracted driving is becoming more and more common, as cars become more and more computerized. It is almost impossible these days to drive down the highway, and not see vehicles that are playing movies and television shows to the passengers. While the driver is absolutely forbidden to be watching while he is driving, sometimes drivers can be distracted by a show or movie, which can cause an accident.
More common with respect to distracted driving our drivers on cellular phones. Cell phones can cause a drivers reaction time to drop by three to five seconds, which can make all of the difference as to whether a vehicle is able to come to a complete stop, or plows into a stopped vehicle at a red light, for example.
Distracted driving accidents range from rear end collisions, to pedestrian strikes, to all other manners of crashes.
It is important to engage an attorney right away in a case where the person who caused the accident and caused injury to you, may have been distracted. Cell phone records are not kept forever, and they a professional distracted driving attorney is going to be able to preserve and protect that data for use later on in your case.
Distracted driving comes in more forms than technology distractions:
Map/direction viewing

Eating

Shaving

Searching for items in a car

Programming/changing input on a GPS
Distracted driving is very preventable, but very common. If you have been injured by a distracted driver, call a professional Virginia distracted driving attorney!
Car Accidents Caused by Speeding
None of us enjoy low speed limits, but they are there for our safety. Speed limits are determined by tests, done by the state and a team of qualified experts to figure out average response times, and the save speed for the road as it exists in a specific stretch. However, many people disregard these limits for a multitude of reasons, from lateness to intentional violation.
Law enforcement agencies across the Commonwealth handed out a large number of tickets for speeding and other traffic violations. Speeding which is so great, normally 20 miles an hour over the posted speed limit, can also result in the additional charge of reckless driving.
When a defendant pleads guilty to speeding, or any other traffic charge, this is admissible in the civil case, if the citation is for conduct that led to the car accident, and a person's injuries.
Speeding is itself dangerous, and gets even more so when weather conditions reduce visibility, or make the roads slick. This happens in ice, snow, and rain. Did you know that light rain can sometimes be among the more dangerous conditions to drive in? It seems counterintuitive, but it's true. Heavy rain washes away whatever is sitting on the road. However, light rain will often create smaller pools that causes oil and other sealants to rise to the surface and can make the roads more slick. People who drive faster than is reasonable under weather conditions, can cause very serious accidents.
Where Can Blaszkow Legal Help Me?
We represent clients throughout Northern Virginia, Maryland, and DC. We represent personal injury clients all over the Old Dominion, in both General District Court and Circuit Court.
Arlington, Alexandria, Fairfax, Prince William, Manassas, Loudoun County, Falls Church, Stafford County, Spotsylvania County, Fredericksburg, Fauquier, Culpeper, and more.
If you have been involved in a Virginia car accident, call Blaszkow Legal for a free consultation: 703-879-5910
---
1 – 2021 Virginia DOT Crash Statistics: https://www.dmv.virginia.gov/safety/crash_data/crash_facts/crash_facts_21.pdf
2 - https://www.verywellhealth.com/top-causes-of-death-for-ages-25-44-2223958