MANASSAS CAR ACCIDENT LAWYERS
If you have been hurt in a car accident that was not your fault in Manassas, or any part of Prince William County, then you need an experienced lawyer to help you fight for the compensation that you deserve. The insurance adjusters and their defense attorneys are getting to work right away after an accident, to shut you down. They are working tirelessly to reduce your claim, to minimize it, or to find ways to flat-out deny it. Don't let them! Get Blaszkow Legal on your side, and our team will start investigating your case immediately.

Get Justice with Joe, and call Blaszkow Legal today - 703-879-5910
What are the common causes of Manassas Car Accidents?
The statistics in Manassas are not much different from the rest of Virginia, in that most car accidents have the same root causes:
Speeding. Some drivers want to shave a few minutes off of their trip, and this can often cause them to drive faster than the posted speed limit, which can cause accidents.

Distracted driving. Most people only think of cell phones when they think of distracted driving, but there is more to it. The more cars become advanced, the more the information and infotainment systems become prevalent. Using these systems while driving can take a driver's focus off the road, and this can cause serious incidents. Did you know that more people are killed in distracted driving accidents, than by drunk drivers?

Drunk drivers. People who drive under the influence of alcohol, or narcotics, place the motoring public in extreme danger. Drunk drivers can hurt other motorists, and they can also hit bicyclists and even pedestrians. These accidents tend to be quite severe, and more often than not, the drunk driver is not as badly hurt as the innocent people that they crash with.

Reckless driving and aggressive driving. Reckless and aggressive drivers think only of themselves when they're on the road, and this causes serious incidents. These people will change lanes without signaling, try to pass on the shoulder, and commit numerous violations of the rules of the road, all of which hit and hurt innocent people.
Who is liable for a Manassas Crash?
The answer to this question is very fact specific. A car accident case is reviewed in the light of negligence. Whose negligence caused the accident? For example, if you are stopped at a red light, and someone slams into the back of your car, then the driver behind you is negligent. But is that driver the only negligent party? Was he in the course of his employment? Was he on his way to pick up an Uber passenger?

As soon as you hire us, we get to work right away on investigating the case, to determine all of the negligence that caused the accident, and to identify all parties and companies who are responsible. Our investigation is designed to help prove your case. The sooner you hire an experienced Manassas car accident attorney, the better. The longer you wait, the higher the risk that evidence will be hidden, or lost.
How can a Manassas Car Accident attorney help you after a crash?
Blaszkow Legal, PLLC strives to treat all of our clients individually. Far too often, we hear from people who have had experiences with large law firms, and these people feel like they have been pushed through a meat grinder. They never speak to their attorney, they may only ever speak to a case manager. They don't really know what's happening with their case! That is not true with us. You can call us anytime, as we keep our clients informed about what's going on.

Our job is to help reduce your stress as much as possible, to maximize your recovery, and to get you the compensation you deserve. Some of the things that we do include:
Investigating your case, which includes interviewing witnesses, performing a comprehensive scene review, identifying and preserving camera footage, and identifying the defendant(s)

Researching other potential defendants, which means looking into companies and dispatch services and trucking brokers, and more. If anyone had a hand in causing your accident, we work to find them

Liaising with insurance companies and law enforcement personnel. You should never say anything that can be used against you, without the benefit of an attorney. Just like on tv, anything you say can and will be used against you. This includes in the civil realm, just as in criminal court

Guide you through the property damage process, to make sure that you are getting a rental vehicle, and at your repairs are being taken care of efficiently

Properly document all of your damages to ensure that you can make a full recovery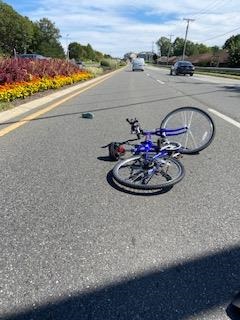 What kind of Damages do I have in a Manassas car accident?
If you have been involved in a car accident, then you have the right to make a claim for damages. Damages is a legal term that encompasses all of the ways the accident, and the injuries that resulted from that accident, have impacted your life. Such as:
Medical expenses

Future medical expenses

Lost wages

Future lost wages

Prescriptions

Inconvenience

Pain and suffering

Loss of earning capacity

Permanency

Scarring
At Blaszkow Legal, we have been fighting insurance companies for over 40 years. Let us put that experience to work for you right away.
Am I going to have to go to court after a Manassas Car Accident?
Not every case goes to trial. However, as part of the Blaszkow Legal Method, we prepare every case from the minute you walk into our office as if it is going to go to court. This way, the insurance companies know that we are ready and willing to fight if they try to play games.

It is true that most car accident claims settle before a lawsuit is filed. But we don't take any chances, and we're ready to fight in the event of any obstacle thrown up by the defense.

If your case does have to go to court, it will either be filed in the General District Court or the Circuit Court. Cases under $50,000 are heard in the GDC, while a case who's value is more than $50,000 is pursued in the Circuit Court.
What is the statute of limitations for a Manassas Car Accident?
As a general rule, Virginia law imposes a two-year statute of limitations to file a lawsuit. That means two years from the date of the accident, to the time of initiating litigation.

However, you cannot go merely by that 2-year limit, alone! There are other statutes that may apply, depending on the facts of your accident, and depending on who is involved.
If you have been hit by a federal government employee or vehicle, there is a special timeline under the Federal Tort Claims Act.

If you have been hit by a city, county, or Virginia state vehicle, there are statutes which require the proper filing of notice, which is a much shorter timeline than the two-year statute of limitations.

If you have been involved in a car accident, you need to call us right away, so we can make sure that you have not waived any claim that you might have by failing to follow any of these laws.
What should I do after being involved in a Manassas car Accident?
Stay safe! If you have been in a crash, you need to get your vehicles out of the roadway, if possible. If your vehicle is not drivable, then sometimes the safest place to be is in the car. Despite the accident, you are still protected by the car's crash resistance, as well as the car itself. This is much safer than standing next to it, in the roadway!


Call the police! Call 911 and give them your location and ask a police officer to come out. Even if you are somewhere that you think the police will not come, or if they tell you they are not coming, you should still call! This call will be recorded, and it provides evidence on the date, time, and location of the crash.


Identify the other driver! Don't just get a copy of the other cars insurance card. Your case is not against the insurance company, but against the driver who caused the accident! Always get a copy of the other motorist's driver's license, or state or federal ID card.


Take a lot of pictures! This includes videos. You cannot have too many pics or vids. Take as many pics as you can of everything that might be related, from the location of the accident, to the drivers, to the cars, the skid marks on the road, to pictures of debris.


Go to the doctor! If you feel like you have been hurt, then you need to go get evaluated by a medical doctor. If you are very badly hurt, call an ambulance, or go to an emergency room. If you feel that you can wait an hour, then go to an urgent care clinic. Whatever you feel, get properly evaluated right away, by someone who is competent to look at all of your body, not just a small part of it.


Call an experienced Manassas car accident lawyer like Blaszkow Legal! Do not call an insurance company, because what you say may be used against you later on - even if it's your own insurance company! Let us do the heavy lifting, and call an attorney.
Hire a Manassas Car Accident Attorney today
Filing an insurance claim, and getting the compensation that you deserve, can be a long process. You want someone fighting for you, just like the insurance adjusters are fighting for their companies. We have represented our clients on all kinds of car accidents, truck accidents, bus accidents, and more. We know what tricks the insurance companies like to play. Let us fight for you so that you have an aggressive, experienced personal injury lawyer giving you the best representation you can get.
Get Justice with Joe, and call 703-879-5910 for a free consultation
Have you been injured?
Then let us fight for you, so you can focus on your treatment, and getting back to where you were.

We serve all of Northern Virginia: Manassas, Manassas Park, Woodbridge, Haymarket, Montclair, Dumfries, Triangle, Quantico, Canova, Bull Run, Canova, Wellington, Nokesville, and beyond. Call 703-879-5910