ALEXANDRIA BICYCLE ACCIDENT LAWYERS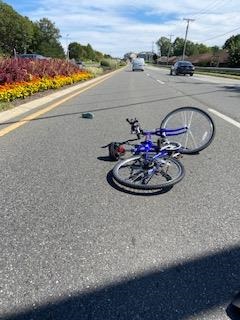 Biking is a great way to get around town, exercise, avoid the headaches of traffic, and save money on fuel. Unfortunately, not all motorists watch out for bicycles on the road, which leads to some serious bicycle accidents. Although the car drivers almost always walks away from these accidents without a scratch, the same cannot be said of the bicyclist, who absorbs the full brunt of the impact - and because they don't have the protection of a steel frame around them, more often than not, bicyclists suffer serious injuries, and even death.

If you have been hurt in an Alexandria bicycle accident and you are not at fault, Attorney Joe Blaszkow, himself an avid bicycle rider, and his team are here to help you get the full compensation that you deserve. Our firm is dedicated to fighting for people injured in bike accidents, and it is our job to help you battle the insurance companies. Get Justice with Joe, and schedule a free consultation today with our experienced Alexandria bicycle accident lawyers!
The common causes of Alexandria Bicycle Accidents
Bicycle accidents happen in Northern Virginia with alarming frequency. They often happen as the result of inattention, and sometimes multiple factors combine because these accidents. Some of the most common reasons for bicycle accidents that we see include:
Speeding or over-driving the road conditions. Speeding is not only illegal, it is also dangerous. As a basic rule of physics, the faster a vehicle goes, the more force it has when it strikes something, especially a bicycle. Bicyclists themselves do not have any protection other than a helmet, which make these collisions very bad, and when speeding is a factor, they are even worse.

Distracted driving. Distracted driving seems to be getting worse every day, as people focus on their infotainment systems, make phone calls and text, and some truly negligent people even browse the web while driving! This takes their eyes off of the roadway, and this is a leading cause in bicycle crashes.

DUI or impaired driving. Alcohol slows reaction time, as do drugs from marijuana to methamphetamine and more. The slower the driver reacts to a bicyclist, say crossing the road, the higher the chance of a serious crash.

Dooring accidents. These happens when drivers park next to bicycle lanes, and do not look for oncoming bicyclists before opening their doors. Drivers can sometimes open their doors immediately in front of a bicycle, preventing the bicycle from having time to apply the brakes.

Driving too close to bicycles. Some drivers do not move over for bicyclists who are trying to drive on the side of the road, and side view mirrors, antenna, or other parts of the vehicle can strike these bicyclists, knocking them over and causing serious injuries.
Liability and Virginia Bicycle Accidents
In order to assert a claim in Virginia for personal injury, we have to prove that the other person was negligent. Negligence is defined as failing to do what a reasonable person would do in that same situation, in other words using due care and regard and doing your duty to other motorists, bicyclists, and occupants of the roadway.

It is our responsibility to prove the case, not just make allegations. We do this through a competent and thorough investigation as soon as you engage an our attorneys. We immediately begin to find all of the pieces of evidence that we can use to prove that the other side was at fault.

Gathering evidence is extremely important. Gathering this evidence needs to be done immediately, because some evidence can be lost over time, if not preserved. Some evidence in a bicycle accident case includes:
Police accident reports (known as FR-300s)

Witness statements

Photographs and videos of the location of the scene, as well as injuries and debris

Surveillance cameras and dash camera footage

Cell phone records

Traffic signal timing records

Testimony from first responders

Accident reconstruction reports

Other forensic evaluations
Contributory negligence and Alexandria Bicycle Accidents
Bicycle accidents can be extremely difficult, and the insurance companies do everything they can to attack your claim. The insurance companies only have to prove that you, the bicyclist, were 1% responsible for the accident.

Virginia practices a legal doctrine known as contributory negligence. This is the same as in DC as well as in Maryland. If the defendant, or the at fault insurance company can prove that you were in some way negligent in the happening of the accident - even just a little bit! - then this contributory negligence acts as a bar to your recovery.
What is an Alexandria Bicycle Accident case worth?
No competent attorney can tell you over the phone, or when you walk into the office, exactly what your case is worth. While you are entitled to compensation for your injuries if the other person is at fault, we have to prove your damages. In order to do that, we have to fully evaluate the elements of your damages.

Damages fall into varying categories, called economic damages, non-economic damages, and punitive damages. However, there are a lot of pieces that make up the totality of how this accident impacted you, such as:
Emergency room bills

Emergency Room Physicians bills

Radiology invoices

Prescription costs

Time lost from work (including sick time and vacation time used)

Reduced earning capacity

Future medical expenses

Future lost wages

Pain and suffering

Emotional distress and trauma

Property damage

Impairment in activities of daily living

Permanency of any injuries

Scarring
The statute of limitations for Virginia bicycle accident lawsuits
An Alexandria bicycle accident is governed by the law in Virginia for personal injury claims. Virginia law gives you two years from the date of the accident to file a lawsuit against the negligent party or parties who caused the accident. If you do not file a lawsuit within this time, this will act as a bar to your recovery.

However, the two-year limit is not the only time window that you need to worry about! If your accident was caused by a local government vehicle, a state government vehicle, or someone from the federal government, then there are other timelines that begin to run from the day the accident happened. These timelines are governed by the various "tort claims acts", in both state and federal law. If you do not properly notify the governmental authority, then they have ammunition to attack and defeat your claim on legal procedural grounds. Always call an attorney immediately after a bicycle accident!
Contact an experienced Alexandria Bicycle Accident lawyer today!
At Blaszkow Legal, we are ready, willing, and able to help our fight for our clients throughout the Commonwealth of Virginia who had been injured as the result of someone else's negligence. Our team of attorneys, paralegals, and investigators can handle all kinds of cases from smaller accidents to catastrophic injuries, and even wrongful death claims. No matter how the accident happened or who was involved, we can fight for you from beginning to end!

Get Justice with Joe, and call the best Alexandria bicycle accident lawyer you can find!
Call 703-879-5910
FIGHT FOR YOUR RIGHTS!
Contact an Attorney who has a proven track record of taking on all insurance companies, and battling hard for his clients. Call Joe Blaszkow today!