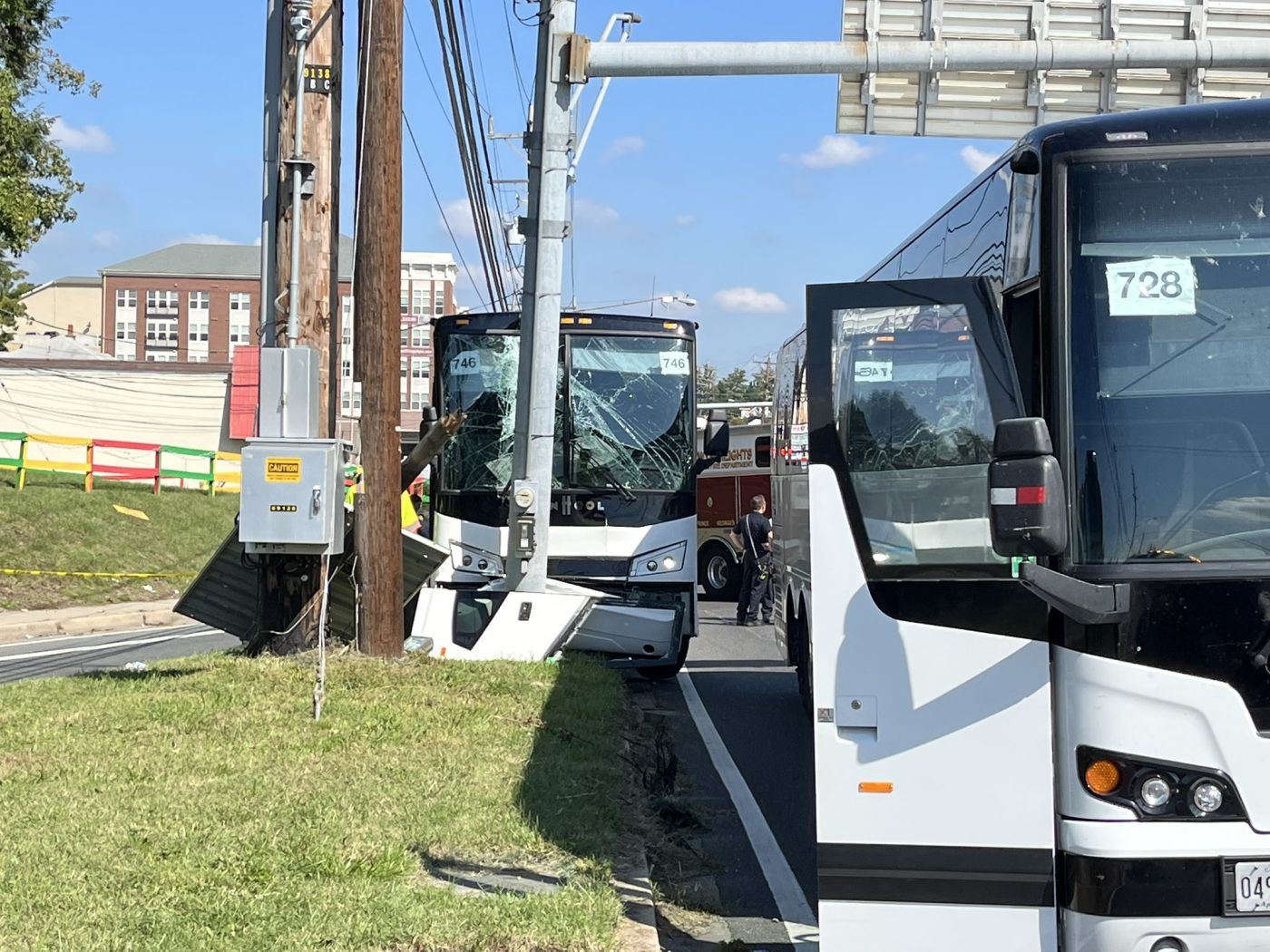 University of Maryland Bus Crash injures at least 27 people in College Park, MD
---
COLLEGE PARK, MD - A University of Maryland trip today ended in a bus accident in College Park, as a tour bus contracted by the University smashed into a pole.
The crash happened this morning around 10:20 a.m., on Baltimore Avenue near University Boulevard, in College Park, Prince George's County, Maryland. Officers of the PG County Police as well as the University of Maryland Police responded, along with fire and EMS personnel.
Initial reports said that 56 passengers were on the bus, and that 25 were injured. This number has alternately been reported to be 28, and 30 injured. Later still, it was suggested that 27 people were transported to local hospitals.
The crash snarled morning traffic, after rush-hour. One lane on Baltimore Avenue in each direction was closed off during the response and investigation.
The crash remains under investigation by local police, as well as university police. At this time, no other vehicle is alleged to have been involved. Another charter bus that appeared to be leading the crashed-bus stopped and remained on scene immediately thereafter.
We wish a speedy recovery to all those who were injured.
---
Charter Bus Accidents in Maryland
Bus accidents do happen, more frequently than many people realize. These accidents can be very difficult to investigate however, because the insurance companies will often deny liability, and force those people injured to fight to recover for their damages.
In any bus accident, it is extremely important to speak to an experienced Maryland bus accident lawyer who can help you with dealing with the after effects of a bus crash, investigate and determine those at fault, and help to identify all of the available insurance coverage(s). Oftentimes, there is not enough insurance to go around when so many people are injured.
Insurance Coverage After a Maryland Bus Accident
Insurance coverage is determined by who is at fault for the crash itself. In this instance, if the bus driver acted negatively, then the claims of all of those people who have been injured will be against the negligent driver and the company that employed him. However, if for example, the accident was caused by another vehicle, and everyone's claim would be against the driver of that vehicle.
Depending on the fact of the accident, insurance coverage can also come from other places, farther down the line than an individual driver and his or her employer. Sometimes bus companies are dispatched by brokering agencies and dispatch companies. These companies sometimes bear certain responsibility for some accidents. Insurance coverage can apply in certain circumstances, depending on how people have been hurt - and how many.
What Happens If There Is Not Enough Insurance Coverage to Go Around?
If you are involved in a bus accident, and the at-fault party has car insurance, but doesn't have enough to make everyone whole, it is important to then investigate other sources of possible recovery. This is usually found in an injured person's "uninsured motorist coverage." Uninsured motorist coverage has two parts: Uninsured motorist coverage and underinsured motorist coverage. Uninsured motorist coverage (UM) is designed to protect you, the insured, in the event the other driver has no insurance, while underinsured motorist coverage (UIM) is designed to assist when the at-fault driver doesn't have enough insurance. It is very possible that, depending on how badly the passengers were hurt, these cases may very become underinsured motorist claims.
Uninsured motorist coverage can come from many sources. Often, it comes from the motor vehicle policy issued to the injured person, for the vehicle that you have at home. However, even that can sometimes not be enough. This is not very well known, but people can also be eligible for coverage under insurance policies in effect in their homes, even if they themselves are not a named insured on that policy. A prime example is when a young college student lives at home with family. That student may have his own car insurance, but may also be covered under the families motor vehicle insurance, as a "resident relative."
These coverage investigations can sometimes be tricky. That is why it is so important to speak to an experienced bus accident lawyer right away - before you talk to any insurance adjuster!
What Damages Can You Claim After a Maryland Bus Accident?
If you have been injured in a bus accident, you have the right to file a claim for the damages that were caused by the negligent actions of another person. The word "damages" is a term of art in the legal industry that represents all of the ways that the bus accident has impacted your life, and impaired you in any way. Many different elements go into the total calculation of your damages.
Some examples of Damages include:
Hospital treatment

Emergency room evaluation

Emergency physicians bills

Radiology invoices

Prescription costs

Physical Therapy

Ambulance transport

Future medical expenses

Time lost from work

Pain and suffering

Inconvenience

Emotional distress

Trauma

Permanent injury
It is important to remember that not everyone's case is the same, even if all of the injuries stem from the same accident. Everyone on the planet is different. One person's broken arm may heal quicker than another's. Every person's damages have to be viewed in the vacuum of that individual person's case. Additionally, we have to prove damages, not merely allege them. We do this generally through a thorough review of medical records and relevant bills, as these medical expenses are the largest single driver of a person's damages.
There are some common injuries found in those who have been involved in Maryland bus accidents:
Whiplash

Sprains and strains of the neck

Strains and strains of the back

Muscle spasms

Broken bones or fractures

Lacerations

Bruising on legs and arms

Concussions

Head injuries
Paying for Medical Treatment
There is a fallacy in the world today that the at-fault party is going to "pay for your medical expenses." This is not true! You may claim your medical expenses against that person or company. However, after an accident, you should always always use your health insurance to pay for any medical treatment that you receive, if possible.
Speak to an Experienced Maryland Bus Accident Attorney
Attorney Joe Blaszkow and his team have a lot of experience in fighting for people who have been involved in bus accidents. From Greyhound, to charter buses, to State entities, Blaszkow Legal knows how to battle each of their insurance companies to get the compensation that you deserve.
Never speak to an insurance company without consulting a lawyer, because all of them are only fighting for their stockholders and their bottom line. An attorney is ethically and legally obligated to fight for you, and your best interests! Call us today for a free consultation - we offer remote appointments for your convenience.
Get Justice with Joe Blaszkow and call 703-879-5910!
---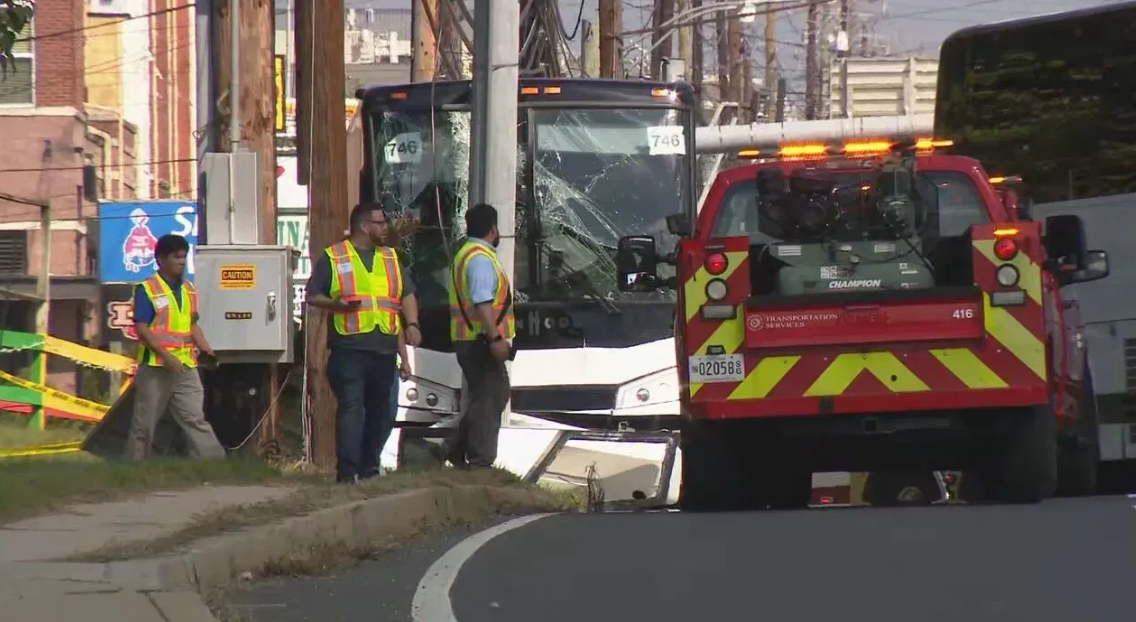 ---
Photo Credit - WJLA
Note: When creating these blog posts, our team of writers utilizes external sources, including local and state news sources, social media platforms, police accident incident reports, state police accident reports, and at times, eyewitness accounts. Please contact us immediately if you discover any incorrect information so that we can update the post with the most current, accurate information available.
Disclaimer: This post is not a business solicitation, and none of the information provided in this blog post should be interpreted as medical or legal advice. If you have been injured in an accident, seek immediate medical attention.