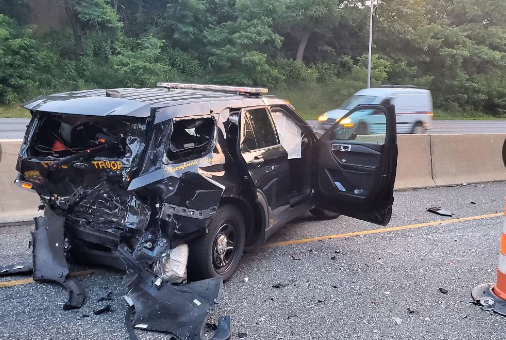 MARYLAND STATE TROOPER HURT IN MORNING DRUNK DRIVING CRASH ON I-495
---
SILVER SPRING, MD - May 22, 2023 - A Maryland State Trooper was hospitalized this morning after 4:30 a.m., when a possible drunk driver struck the rear of the Trooper's marked police vehicle. The trooper had his emergency lights activated at the time of the crash.
This is the second time in a week that a State Trooper has been injured on a DMV Highway.
The Trooper, assigned to the College Park Barracks, was working traffic control in a work zone on I-495 in the Silver Spring area, near University Boulevard (Inner Loop). At approximately 4:30 a.m., a Mercedes SUV driven by Anthony Bowser entered the construction zone and slammed into the rear of the Trooper's SUV. The Trooper's SUV appeared to have been pushed into the highway's concrete median strip.
The Trooper was injured, and was taken to an area hospital with non-life threatening injuries.
The striking driver, Mr. Bowser, is suspected of driving under the influence, and charges against him are currently pending.
I-495 was significantly delayed this morning for crash reconstruction and investigation.
---
---
Work Zone Accidents
Motor vehicle accidents in work zones a common occurrence, perhaps more so in the DMV because of the amount of construction that goes on. Cars are often hit when lanes are lost, at the merge point because, instead of alternating, some drivers aggressively jostle for position.
It is more rare that cars strike construction vehicles and construction workers, but it does happen. When it happens, these accidents cause severe injuries to the construction works, because they are unprotected. These workers often have only hard hats and reflective vests, and suffer the same injuries as pedestrians who are hit crossing the road.
Drunk Driving Accidents
Drunk Drivers are a huge danger on our roadways, and this is a danger that is not only reckless, it is preventable. Drunk drivers endanger the safety of everyone, as this article shows. The Trooper was there to protect construction workers, and himself ended up getting hurt.
Thankfully, the Trooper can file a claim against the drunk driver, in addition to any Worker's Compensation benefits he will obtain. Worker's Comp allows someone who is injured at work to have those injuries evaluated and treated, and a separate Third-Party Claim can be pursued against the person who caused the injuries - in this case, the drunk driver.
Call An Experienced Attorney Immediately After a Crash
Attorney Joseph Blaszkow has a long history in Maryland and Virginia of pursuing justice for people who have been hurt by the careless negligence of drunk drivers. He was one of the first car accident lawyers in Virginia to get punitive damages against a drunk driver!
If you have been injured in a car accident in Maryland, or anywhere in the DMV, Get Justice with Joe - call 703-879-5910
---
Photo Credit: Montgomery County Fire and Rescue
Note: When creating these blog posts, our team of writers utilizes external sources, including local and state news sources, social media platforms, police accident incident reports, state police accident reports, and at times, eyewitness accounts. Please contact us immediately if you discover any incorrect information so that we can update the post with the most current, accurate information available.
Disclaimer: This post is not a business solicitation, and none of the information provided in this blog post should be interpreted as medical or legal advice. If you have been injured in an accident, seek immediate medical attention and contact an attorney immediately. This post's featured image was not captured at the actual accident scene.