WASHINGTON, DC PEDESTRIAN ACCIDENT LAWYER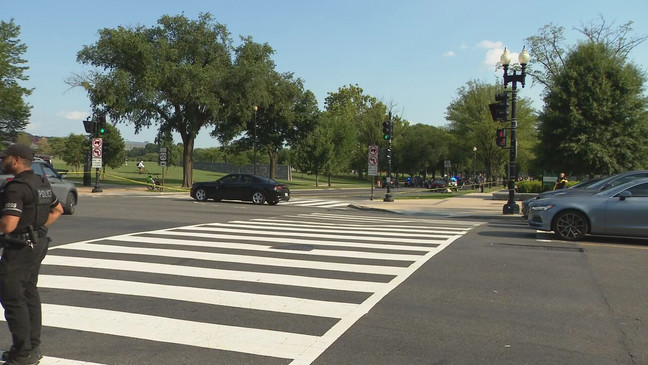 Pedestrian accidents happen every day throughout the country, and almost every day in Washington, DC. Some studies have suggested that a person is killed crossing a street almost once an hour! It is because a pedestrian has no protection from a vehicle strike, that these incidents often result in severe or catastrophic injuries, or even death.

If you have been hurt in a pedestrian accident, or have lost a loved one in a Washington DC pedestrian accident, contact a DC personal injury lawyer as soon as possible to discuss your options for getting the justice that you deserve. The negligent parties should be held accountable for their actions, but you don't want to try to do that alone. Call the DC pedestrian accident lawyers at Blaszkow Legal today.

The attorneys, paralegals, and investigators at Blaszkow Legal have been fighting for the rights of injured parties in Washington DC, Virginia, and Maryland for over 40 years. Call today for a free consultation and to talk to a lawyer right away. The insurance companies have adjusters and lawyers working hard on their side, you deserve someone fighting just as hard on your side.
Pedestrian Accident Statistics in Washington DC
According to American University, 313 people were killed on the roads of the DC Metro area in 2022.
Washington, DC averages 4.9 traffic fatalities per 100,000 people, while is a high number, but not as high as Prince George's County, Maryland, where that number is 11.8!!!
Why Do So Many Pedestrian Accidents Happen in the District of Columbia?
Pedestrian accidents in DC are extremely common, because we have so many roads, so many cars, and so many people on foot. Many individual factors can lead to these collisions, more specifically than mere volume.

Some of the most common causes of DC pedestrian incidents include:
Failing to yield the right of way

Running stop lights

Running stop signs

Failing to obey traffic control devices

Failing to yield

Distracted driving

Drunk driving

Speeding

Improper road crossing/jaywalking

Bad lighting conditions

Poor or insufficient roadway markings
The Myth That Pedestrians Always Have the Right of Way
There is a myth that pedestrians always have the right of way. Pedestrians have the right of way when they are walking within the crosswalk, and with the pedestrian walk signals. That does not mean you can just dart out in front of on-coming traffic.
Generally, Washington DC (just like Virginia and Maryland, practices the law of contributory negligence. This means that we have to prove that the motorist was solely at fault for the happening of the accident, and that the pedestrian's negligence (if any) did not contribute to the accident.

However, it is important to know that Washington DC recently changed the law of contributory negligence relating to pedestrians and other vulnerable users of Highways and sidewalks (DC Code 50-2204.52). This law states that pedestrians may still file a claim for compensation for their damages when they are partially at fault, so long as 1) that negligence is not the proximate cause of the accident, and 2) does not amount to greater than the aggregated total negligence of all dependents.
In short, the new law says this: a pedestrian who is less than
50% liable may recover their damages.
This sounds confusing, and is currently being tested in the courts. If you have been involved in a pedestrian accident, you need to reach out to a Washington DC pedestrian accident lawyer right away!
Your Claim for Damages After a Washington DC Pedestrian Accident
A person who has been harmed in a pedestrian accident in the District of Columbia may file a claim for their damages against the person whose negligence caused their injuries. Damages are broken down into two separate and distinct categories, known as economic and non-economic damages. There is, however, no specific and easily delineated formula to compute that amount. Here is why:

Economic damages are easy to understand, because they are very clear and concise. For example, if you went to the emergency room and had four CT scans, resulting in a $20,000 emergency room bill, then part of your claim is for that $20,000 emergency room invoice. Economic damages are easily defined by those damages that are spelled out in documentary evidence. Some examples of economic damages include:
Medical expenses and costs

Future medical expenses

Time lost from work

Future lost wages

Loss of earning capacity

Property damage
Non-economic damages are far less clearly defined. Non-economic damages are subjective in nature, and will be different from person to person, even among people who are in exactly the same accident. Non-economic damages include all of the other ways that the accident impacted your life. There is no law book or statute that says neck pain is worth X, and a broken bone is worth Y.

Some examples of non-economic damages include:
Pain and suffering

Inconvenience

Mental distress

Emotional trauma

Post traumatic anxiety

Permanent injury

Scarring

Disfigurement
Another kind of damages that can be awarded under limited circumstances is known as punitive damages. Punitive damages must be awarded by a court, but are not justified by "ordinary negligence." The burden is on the plaintiff to prove that the defendant acted with malice, a complete disregard for the safety of others, recklessness, fraud, or intent. For example, in a small number of DUI cases, you may be able to pursue a claim for punitive damages.
The Statute of Limitations on Washington DC Pedestrian Accidents
DC law recognizes pedestrian accidents as personal injury claims, and imposes a 3-year statute of limitations. This means that any lawsuit must be filed within 3 years of the date of the accident.

However, it is important to note that this 3-year deadline is not the only deadline that needs to be remembered. Incidents that involve government vehicles, whether DC government or Federal government, have to be noted within very specific timelines, that are far shorter.
The DC government has to be notified of a claim against it, including its agents and employees, within 6 months. This is governed by DC code 12-309.
Claims against the Federal Government have to filed within 2 years, pursuant to the Federal Tort Claims Act.
If you do not provide this notice, then your claim can be defeated on procedural grounds.
Contact a Pedestrian Accident Attorney in Washington DC Today
Attorney Joe Blaszkow and his team are ready, willing, and able to fight for you anytime, and anywhere. If you have been hurt in a pedestrian accident, or lost a loved one in one of these incidents, you may be entitled to a claim for compensation. You need a team that knows how to fight the insurance companies, how to develop the evidence, and how to prove your damages in court.
Contact an attorney who is not afraid to take the case all the way to trial. Call us today for a free consultation: 703-879-5910
Get Justice with Joe Blaszkow
Attorney Joe Blaszkow knows DC very well, and has spent his whole career fighting for injured DC residents. He graduated from Georgetown Law School, and then went to work at a sizeable law firm that focused its practice solely on injury cases.

Call Blaszkow Legal for a free consultation: 703-879-5910