MARYLAND SLIP AND FALL LAWYERS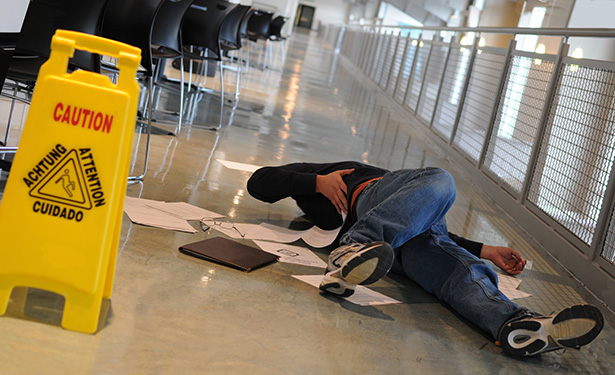 Slip and fall accidents occur without warning, and when you are completely unprepared. They take you by surprise! Often, people are able to get right back up, but not everyone is so lucky. Slip and fall accidents can be much more serious and many people realize. What appear to be minor injuries at the scene, can sometimes be found to be serious, and occasionally devastating.

If you have been involved in a slip and fall accident that happened as a result of a property owner's negligence, then you may have a claim for compensation for your damages.

The insurance companies frequently put up a good fight in slip and fall claims, doing their best to attack your statements, or your treatment, or both! Because of the laws in Maryland, the insurance companies will often claim that you were in some way responsible for the accident. If that has happened to you or a loved one, don't sit still for that! Make a fight of it, and call the Maryland slip and fall attorneys at Blaszkow Legal, PLLC today.
Why you need a slip and fall lawyer in Maryland
Maryland is one of a few states, just like Virginia and the District of Columbia, that practice a legal Doctrine known as contributory negligence. This means that if the insurance company is able to claim that you were even 1% responsible, you cannot recover. This is one of the most frequent arguments that is used by the defense.

It is absolutely vital to speak to an attorney as soon as possible after a slip and fall, that way we can do an independent investigation, and begin working right away to determine 1) how your accident happened, and 2) who is at fault for it.

Getting our investigation started immediately is one of the most important things you can do. Camera footage, which is one of the absolute best pieces of evidence that we could obtain, is overwritten as time passes. Some great camera systems can record data for 30 days before it is overwritten. A lower end system may only hold the data for 72 hours. Once this evidence is lost, it is gone forever.

In addition to denying your claim outright, the insurance companies will use other tricks and tactics to chip away at your claim, or to fool you outright. Another common tactic is to offer an immediate lump sum settlement to resolve your claim. Many unrepresented parties fall for this trick, because they do not know all of the individual items that make up their claim. Unrepresented parties often do not understand what information that the insurance companies are - and are not! - entitled to. For example, if you send them a hospital bill that shows you paid $1,000 out of pocket, they will want to give you your $1,000 back - because you probably don't know that you are entitled to the full price of the medical services, not just what you paid!
Always call Blaszkow Legal before accepting any settlement, that way you can be sure that you are being appropriately compensated for all of your injuries and damages.
What are damages after a Maryland slip and fall?
Damages is an encompassing term, that represents each individual element that you get to claim as part of your overall case. Damages are often divided into two categories called economic damages and non-economic damages. Here are some examples of the damages that you make up the parts of your claim:
Time lost from work

Future lost wages

Medical expenses

Prescription costs

Future medical expenses

Loss of earning capacity

Pain and suffering

Inconvenience

Emotional trauma

Loss of enjoyment of life
If your damages are not properly documented, then the insurance company will work very hard to minimize your claim, and discount certain elements. Always talk to a Maryland slip and fall lawyer before you talk to insurance companies.
Types of Maryland premises liability cases
Not all premises liability cases are Slip and falls. Premises liability generally refers to as a person being hurt due to the negligence of a property or business owner. Some common examples of premises liability incidents that we help people with include:
Slip and falls

Tripping hazards

Unsafe properties

Inadequate lighting

Inadequate security

Improper sanitation (such as cleaning, mopping, etc)

Improper warning signage

Defects in pavement and sidewalks
What you need to do after a Maryland slip and fold accident
After you have been involved in a premises liability incident, such as a Slip and fall, you have to tell someone about it. Notifying the property owner, or property representative is imperative. Professional establishments and professional property owners will take your report, and begin to document the scene. However, unfortunately, not everyone is professional. But you still need to make that notification.

Always make a record of who you talk to. Get a business card or write down a name, phone number, address, title, and email address of the person you notified. We have seen incidents where a property manager lies, and denies that they were ever informed!

Take lots of pictures and videos. In the digital age, you cannot have too many. Take pictures of your surroundings, and specifically the things that caused or contributed to the incident. Take pictures of broken lights, cracked pavement, loose wires, wet floor signs, and the substance that is on the floors that you may have slipped on.

Get as many facts as you can. Grab your phone, and use your voice dictation software in a note or in a text message, and record as much as you can. What was the substance on the floor? What did you see? What did you hear people say? This information can be vital later on. It is important to preserve it for your attorney, to help their investigation.
The damages cap in Maryland
Under Maryland Law (Courts and Judicial Proceedings, 3-2A-09), non-economic damages such as pain and suffering, as of 2019, were capped at $860,000. On January 1st of every succeeding year, this cap increases by $15,000.
As of January 1st, 2023, the Maryland non-economic damage cap is $920,000.00.

There is no cap in state law for economic damages, such as medical bills, lost wages, and prescription receipts.
The burden of proof in Maryland slip and fall cases
Like any civil claim in Maryland, the burden of proof is on the plaintiff. That means it is not enough to simply allege that something happened, and that you are injured by that something: we have to prove it through evidence. Our evidence will be obtained as part of our investigation. Evidence can include a wide variety of items and elements, such as pictures, videos, camera footage, witness testimony, and more.

The standard of proof that we need to meet is called a preponderance of the evidence. This is sometimes called the "51% standard." We must prove that our our case is more likely true, than not true. In other words, we must make the scales of justice tip, but only ever so slightly.
The statute of limitations for Maryland slip and fall accidents
Maryland law gives an injured person 3 years from the date of the incident to file a lawsuit. See Maryland Courts and Judicial Proceeding 5-101.

The statute of limitations does not begin to run for a minor until the minor turns 18. Once the minor turns 18, then the 3-year statute begins to run on the minor's birthday. This means, in practical terms, that a person injured as a minor is going to have, generally, until their 21st birthday to file the lawsuit.

Warning! This statute of limitations is not the only timeline that you have to worry about after a slip and fall, or other Maryland premises liability case. What if you slipped and fell in the courthouse, for example? You have 3 years to file the lawsuit, but because in this instance, your claim is against a governmental Authority, there are other important deadlines to remember. Under the various tort claims act,s you have a certain amount of time to file a claim against a local government, and an amount of time to file your claim, or provide official notice, against the state.

If you do not file your claim, and provide the appropriate notice, your claim may be waived, even if you timely file the lawsuit.

Here is a list of certain entities that fall within the tort claims Act list. If you do not provide proper notice, if your claim is against one of these entities, then you may have waived your right to proceed!
Washington Suburban Sanitary Commission

Washington National Capital Park and Planning Commission

the Enoch Pratt Free Library

the Baltimore Public Markets Corporation

Lexington Market (in Baltimore)

any city, town, county, regional, or state government entity or agency

any housing authority, waste authority, development district, council
Contact a Maryland slip and fall lawyer today!
If you have been injured in a Maryland slip and fall, you need to contact an experienced and dedicated Maryland personal injury attorney right away. The team at Blaszkow Legal is ready, willing, and able to begin fighting for you the moment you pick up the phone. Yje at-fault party has talked to their lawyer as soon as your fall happened - don't let them get the drop on you!

Blaszkow Legal works on a contingency fee basis. We don't get paid unless you collect money. Contact an experienced slip and fall lawyer today, and let us fight to get all of the compensation that you are entitled to.
Call us today for a free consultation:
703-879-5910
---
Maryland non-economical damages cap: https://law.justia.com/codes/maryland/2005/gcj/3-2A-09.html
Maryland Statute of Limitations: https://mgaleg.maryland.gov/mgawebsite/Laws/StatuteText?article=gcj&section=5-101