RICHMOND HIT-AND-RUN ACCIDENT LAWYERS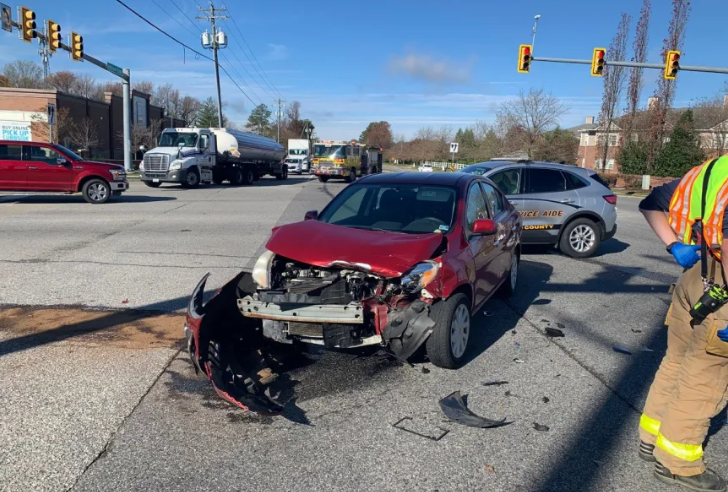 Car accidents happen all of the time in the Richmond Metro area, and most people stay at the scene to exchange information as they are supposed to. But sometimes, people will strike your car - causing serious injuries and damage - and then keep going! In 2022, over 4,500 crashes involved Hit and Run drivers all over the Commonwealth, according to the DMV!

If you have been hurt in a hit-and-run car accident anywhere in Virginia, just because the other driver fled the scene does not mean you don't have a case! You still have the right to pursue compensation, even if you don't have any of that driver's information. At Blaszkow Legal, we are one of the most experienced hit and run law firms in the state, and we are ready, willing, and able to investigate your case, and make your claim. Our team of attorneys, paralegals, and investigators are going to do their best to locate the at-fault driver, and to make your claim as strong as we can. Contact Blaszkow Legal today for a free consultation!
Richmond Office:
7824 Shrader Road, Richmond, Va. 23294
804-762-0190
Hit and Run Law
In Virginia, it is illegal to leave the scene of the accident after a crash. This is not just a traffic violation, but it is a crime.
Virginia Code 46.2-894 places a duty on someone involved in an accident to stop, immediately. If there are no injuries and the property damage is less than $1,000, then this is a Class I misdemeanor. If there are injuries, or property damage exceeds $1,000, then such a hit and run is a felony!
Why Do People Flee from Richmond Car Accidents?
A lot of the people who try to leave the scene of an accident are often located by police officers and sheriff's deputies. One of the most common reasons that a person will flee the scene of the accident is because that person knows that they don't have any car insurance.
There are a number of reasons why drivers will leave the scene of an accident. Some of the more common include:
No driver's license

Outstanding arrest warrants

Unclear immigration status

Under the influence of alcohol, or other drugs/narcotics

The vehicle was stolen

The at-fault driver thought he could get away with it

Some larger vehicles may not even realize that they were in an accident!
How to Pursue a Hit and Run Insurance Claim
If you have been involved in a hit and run accident, you still have the ability to recover your damages. Under normal circumstances, such as in a standard car accident, your claim is made against the other person's car insurance. However, when the outfall driver cannot be identified, or does not have insurance, your case becomes an uninsured motorist claim.

Uninsured motorist coverage is part of your own car insurance. So it comes from the very car insurance that you pay, but an uninsured motorist claim does not make your own car insurance rates increase. You carry this coverage for a reason: because the legislature recognizes how regrettably common hit and run crashes are. While your bodily injury protection coverage protects someone else if you are at fault for the accident, your uninsured motorist coverage protects you in these circumstances.

Uninsured motorist Claims can be very difficult however, because we are now battling your insurance company. It is extremely important after a hit and run accident that you limit what you say to your own car insurance company until you speak to an attorney. The very people that you are calling to help you, may turn around and use your own words against you!

In a standard hit and run accident, the insurance coverage available is going to be based on your own car insurance. In Virginia, the current minimum uninsured motorist coverage on a standard car insurance policy is $30,000 per person, $60,000 per incident - this is usually said "30/60."
What if the Other Driver is Identified, and Does Not Have Insurance?
Even if the other driver has been identified, your claim will still be pursued as an uninsured motorist claim, if that driver has no insurance coverage.
Some clients are adamant that they want to proceed against the at-fault driver, only. While it is possible to file a lawsuit against the at-fault party without pursuing your own uninsured motorist benefits, it is rarely - if ever! - advisable. Most people do not have the financial assets justify such a pursuit.
What You Should Do After a Richmond Hit and Run Accident
After being involved in a car accident, if the other driver flees the scene, it is important for you to protect yourself, and to preserve your claims in the future. These steps can help responding law enforcement personnel to locate the other driver, and also preserve your rights for your civil claim later on.
Get as much information as you can! If you are able to, write down as much information as you can remember about the driver/car that fled the scene. The vehicle's license plate number is the most important, even if you can only get a partial license plate. Always try to remember the state if you can, and sometimes the color of the license plate will help, as that varies from state to state. You also want to get the make, model, color, and description of the car. If you can't write these things down, then open up a text message or notepad and voice dictate this information. Your memory may fade over time, and you may forget things as your pain increases. It's important to record as soon as possible.

Take pictures and video, if possible. If you are able to snap a picture of the fleeing car, this can be incredibly important. If you have a dash camera, this is also vital to preserve.

Call the police! Do not wait to report a hit and run accident, call the police immediately. The sooner you notify them, and the sooner you get that information to law enforcement, the quicker they can broadcast it on their radios, and the more likelihood there is that they can locate and apprehend the fleeing driver.

Document witnesses. Witnesses are extremely important in any car accident. These people may simply be other drivers who stopped to help you, or other people in your car. Never trust that someone else is going to write this information down for you. If you are an Uber driver, Uber and Lyft will never give you this information! Always get a witness' name, address, phone number, and email address.

Get medical treatment. It is vital that you see a competent medical doctor as soon as possible and get evaluated to see what injuries you have. If you are injured, a medical doctor is going to be able to treat you. Don't wait! The longer you wait to see a physician, the more ammunition you give an insurance company to fight against you, arguing that your medical treatment is not related to your accident.

Report the crash to your insurance. You have to call them as soon as possible to get your vehicle towed and repaired, and get a rental vehicle assigned. Keep your statements very brief and very short. Do not volunteer additional information! Do not agree to a recorded statement or any settlement! Never give them too much information until you are represented by an attorney. Read this article for more information about speaking to your insurance.

Contact Blaszkow Legal. Call our Richmond office at 804-762-0190 so that we can make sure that your rights are protected. An experienced car accident lawyer is going to protect you, even from your own car insurance company.
How Does a Richmond Hit and Run Car Accident Lawyer Protect Me?
Many people believe that because a hit-and-run crash is going to be handled their own car insurance company that they are completely protected and going to be taken care of. Unfortunately, that is not the case! There are several reasons for this.
Firstly, uninsured motorist coverage is an adversarial process. This means that the people that you are speaking to are going to be using every piece of information that they can obtain to attack your claim. Remember that an insurance company works for its stockholders, not for you. They don't stay in business by giving you full value for your claim!

Secondly, anything you say can and will be used against you, including by your own car insurance company! Insurance adjusters are very good at their jobs, and they are very, very well trained to lull people into a false sense of security and safety. In this state, people will often say things that the insurance companies will use against you, often by taking recorded statements.

Thirdly, Virginia is a contributory negligence jurisdiction. That means if the insurance company, including your own car insurance, can prove that you were even 1% responsible for the accident, you cannot recover. This is the law in the Commonwealth. So if you say something that gives them the ability to argue that you were a little bit at fault for the accident, you can endanger your own case.

It is the job of an attorney to protect you, even from yourself! That is why we do not let you speak to people about your accident, without legal guidance. The insurance companies have no duty to tell you what the law is, or to tell you what you can claim. Oftentimes, people who attempt to handle their own cases, do not get the fair value for their claims.
What Can I Claim After a Richmond Hit and Run Accident?
The damages that you can claim after a hit and run accident are the same damages that are a claimable after any car accident in the Commonwealth of Virginia. Your damages include two special categories: economic damages, and non economic damages. Economic damages are those that can be clearly documented and identified, such as medical bills. Non economic damages are a little more gray, in that they cannot be narrowly and easily defined. For example, pain and suffering is not worth X, in every accident. It has to be proven through testimony and evidence.

The damages that you can claim after a car accident include:
Pain and suffering

Mental anguish

Emotional distress

Post-traumatic anxiety

Impairment in activities of daily living

Permanent injuries

Scarring

Disfigurement

Medical expenses

Time lost from work

Future medical expenses

Lost earning capacity

Diminished value
Contact an Experienced Hit and Run Car Accident Lawyer Today
Whether you were driving a car, were passenger in a car, or even a pedestrian or bicyclist who was hit, don't let the fact that someone fled the scene of the accident stop you from enforcing your rights, and protecting your interests. The experienced hit-and-run lawyers at Blaszkow Legal will help you explore all of your options, and fight for your damages. You are entitled to compensation if you were not at fault, and you deserve someone ready, willing, and able to fight the insurance companies every step of the way to get you the compensation that you are due.

We work on a contingency fee basis, which means that we don't get paid unless you collect money. It is our job to do everything we can to document and build your damages, so that you can be made whole after this crash. Don't let the insurance companies take advantage of you. Get Justice with Joe Blaszkow, and call 804-762-0190 for a free consultation today!
Get Justice with Joe!
Call Blaszkow Legal today for a free consultation!

Serving the entire Richmond Metro area!

We offer virtual consultations for your convenience!