RICHMOND TRUCK ACCIDENT ATTORNEY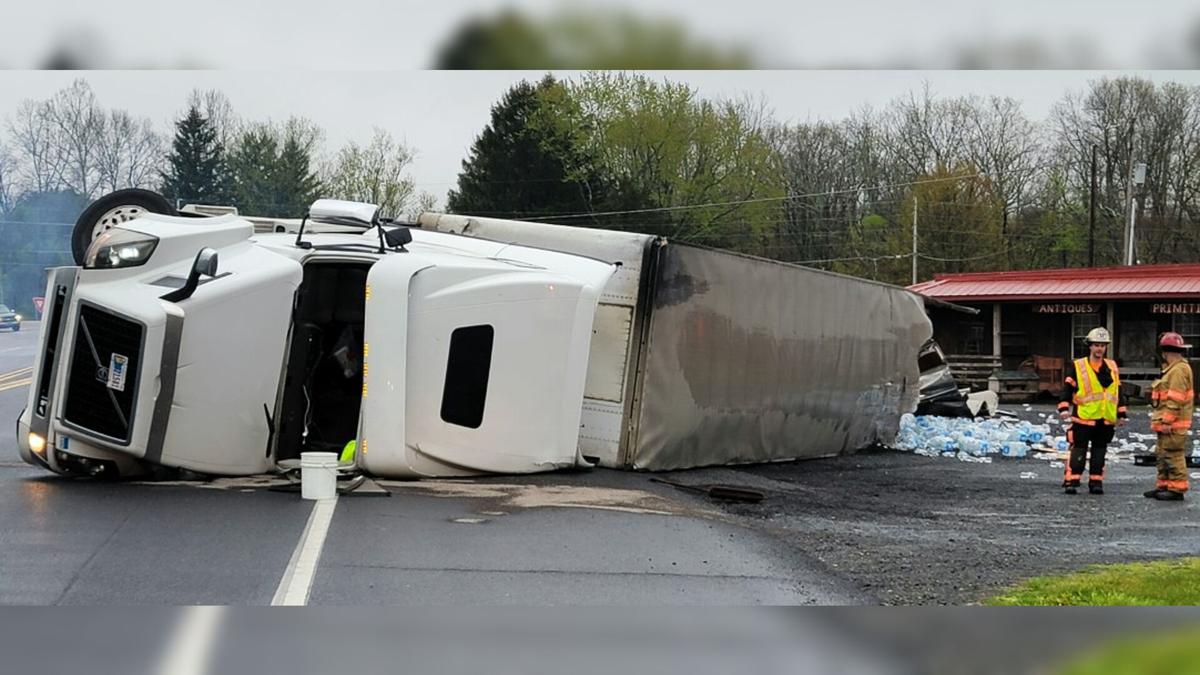 At Blaszkow Legal, we know how serious truck accidents can be. Considering the sheer size and mass of a truck when it strikes a car or bus or pedestrian, these collisions often cause catastrophic injuries, and sometimes even death. These crashes have to be investigated thoroughly, and immediately.

It is extremely important that you reach out to an experienced Richmond truck accident lawyer right away, to get to work on your claim. There are a lot of timelines that are beginning to run, and if you wait too long, some things can be lost forever.

The attorneys and staff at Blaszkow Legal have considerable experience in investigating and prosecuting truck accident cases all over the Commonwealth of Virginia, as well as Washington DC and Maryland. These cases can be extremely complicated, and the insurance companies will use every trick at their disposal try to minimize or deny your claim. Don't let the insurance companies make a bad situation even worse. Get Justice with Joe Blaszkow, and call us to see how we can help you and your family today.
Richmond Office:
7824 Shrader Road, Richmond, Va. 23294
804-762-0190
Richmond Truck Accidents and Who is at Fault
In order for us to be successful on a claim, the burden of proof lies with us - that means that we have to prove that the truck driver was negligent. However, when you peel back layer after layer of a truck accident, you find that there are more negligent parties than just the driver. In the operation of a big rig, there are a lot more people involved than most realize.

In the course of investigating a truck accident, we look at the possibility that liability may lie with any of the following:
Truck driver

Dispatcher or dispatching company

Trucking company

Trucking company's safety manager

In-house maintenance personnel or contractors

Safety inspector

Shipper

People who loaded the trailer

Freight companies

Freight brokers
It is important to identify all of the people who may have some potential exposure in the case. Some big rigs have 1 million dollars in liability coverage, and some have even more. But even this amount of money can sometimes be insufficient as compensation when a person has been catastrophically injured, or you have lost a loved one.
Investigating Truck Accidents
Truck accidents require a huge amount of investigation and preparation when asserting a claim. Thankfully, Blaszkow Legal has a team of paralegals, lawyers, and investigators who know how to do exactly that.

Investigating the scene. The scene of the crash can reveal significant details that illustrate to us - and a jury - exactly what happened, and how. Our team will always canvas the area to see if we can locate any dash camera footage, surveillance camera footage, traffic cameras, or other recording devices that show us some or all of the collision. Sometimes, if we know the route that the truck took, we can get other footage of the truck at speed. This can be important to prove a pattern of behavior, or pre-crash activities.
Locating Witnesses. People's memories fade over time, and it is vital that we speak to any witnesses to any part of the crash, as soon as possible. Often we will take statements from these individuals, to preserve their memories, because trials in Virginia truck accidents can sometimes take years.
Investigating the driver. Our team will begin investigating the truck driver himself, to make sure that all of the appropriate trainings and certifications are in effect. It adequate driver training is one of the leading causes of serious truck accidents
Investigating the truck. Making sure that the big rig itself stays in evidence can be very important, as the more a truck is used, the data that is recorded will be overwritten. Trucks, like many newer vehicles, contain electronic control modules, and event data recorders. This is very similar to the Black Box on airplanes. By obtaining this data, we receive a complete picture of the mechanical operation of the truck, such as how fast was it going, when were the brakes applied, and so on.
Investigating the trucking company. Most crashes do not happen in a vacuum. If someone alleges that the truck involved in the crash is very badly maintained, then chances are, the company may have a poor record of maintaining its entire fleet. This information can be important to prove a pattern of negligent inspection and safety.
The Law and Richmond Truck Accidents
All big rigs operate pursuant to the Federal Motor Carrier Safety Regulations. These are an extensive set of rules and policies put forth by the Federal Motor Carrier Aafety Administration, part of the US Department of Transportation. These regulations cover almost all activities and aspects of running a trucking company, and operating a tractor-trailer. An experienced truck accident lawyer is going to know these regulations, because violating these regulations is often evidence of negligence.

Negligence is exactly what we have to prove. Accidents do indeed happen, and in order to file a civil claim for your injuries, we have to be able to prove that the accident was preventable and avoidable, had everyone involved used due care and regard for the safety of other motorists, and the public in general.
Contributory Negligence and Virginia Truck Accidents
Trucking accidents in the Commonwealth of Virginia are governed by a legal doctrine known as contributory negligence. This is very misunderstood, because it is not the law in most states. But in Virginia, as well as Maryland and Washington DC, the law says that if you (the person who is filing the claim) are even 1% responsible for the accident, then you cannot recover for your injuries. It is a very high bar, and it is one of the biggest weapons that the insurance industry uses to attack the claims of unrepresented parties.

The best way to safeguard against this is never to speak to an insurance company without talking to an experienced Richmond Truck Accident Lawyer first!
Different Kinds of Richmond Truck Accidents
Truck accidents can happen in many different ways, and many of these accidents are very preventable by truck drivers, and the companies that employ them. However, when people act negligently, recklessly, or carelessly, these accidents can have severe repercussions. Some of the common truck accidents that we investigate include:
Driver fatigue. The federal rules require the driver's only drive 11 amount of hours, and then rest for 10. Drivers who push themselves too hard, and dispatchers who push drivers even harder, are negligent, and place the general public at risk if they try to drive more than they should.

Tractor trailer rollover. Some trucks will roll over after being in an accident, which can impact other motorists, and even crush other vehicles. These rollovers sometimes happen as the result of uncontrolled speed, and other times as a result of improperly stacked freight.

Distracted truck driving. Distracted driving is a huge problem on the roadways generally, but it is becoming worse and worse among truck drivers. While many cars have an infotainment system, tractor trailer drivers have a large number of computers and other electronic readouts in the cab of their trucks. While a GPS is standard, many drivers also have a laptop computer display, and other devices. If a driver is not paying full time and attention to the road, this can be fatal to others.

Jackknife accidents. When a truck is going to fast, and attempts to brake, or sometimes attempts to turn in an uncontrolled and inappropriate manner, the inertia from the trailer can push the truck, causing the truck to be almost dragged forward.

Overweight and Oversize accidents. Drivers that are hauling oversized loads have to drive with even more caution than normal, and often require special training, as they will face obstacles other truck drivers do not.
Common Injuries after Richmond Truck Accidents
Truck accidents can cause any number of serious and severe injuries to car drivers, bus passengers, and any other people on the roadway. But some of the most common injuries include:
Traumatic brain injuries

Broken bones

Contusions

Lacerations

Sprains and strains of muscles

Traumatic amputation of limbs

Death
Why you Should Talk to a Richmond Truck Accident Lawyer Right Away
The insurance companies involved are staffed with very highly trained people who have one single goal in mind: to pay you as little money as possible for your injuries and your losses. Insurance companies do not stay in business by giving injured people fair value for their claims. Instead, they utilize every tip and a trick at their disposal to chip away at your claim, piece by piece. Insurance companies work their stock holders.
Insurance adjusters are not required to tell you what the law is, or what you can claim. People who speak to insurance companies while unrepresented are often fighting an uphill battle, and the insurance companies love that.

On the contrary, a truck accident attorney is dedicated to protecting your rights, and utilizing the law to protect and preserve your best interests. At Blaszkow Legal, we are dedicated to getting our clients all of the compensation that they are entitled to, from every source possible.

Because of our contributory negligence laws in Virginia, these adjusters will often get people talking, and those people who say things that the insurance companies can then use against them, often find their cases irreparably harmed.
By hiring experienced legal professionals, you stop the insurance companies from playing their games.
What Damages can be Claimed after a Richmond Truck Accident?
If you have been hurt in a truck accident that was not your fault, we have the ability to help you file a claim for your damages. Damages is a legal term of art that represents all of the many ways that the accident impacted you. This includes more than your physical injuries, and represents the sum total of the financial, emotional, physical, impact to your life.

The most common elements of Damages include:
Medical expenses, such as Hospital evaluations, Emergency Physicians bills, Radiology bills, ambulance transport costs, Rehabilitation expenses, prescriptions, and more

Future medical expenses

Time lost from work

Future time from work

Loss of earning capacity

Impairments in activities of daily living

Property damage

Diminished value to property

Emotional distress

Anguish

Anxiety/fear

Loss of enjoyment

Disfigurement

Disability

Permanency
It is important to remember damages need to be proven, not merely alleged. This is another trick that the insurance companies will use against unrepresented parties. Documented evidence is among the best way to prove a claimant's damages. With respect to medical expenses and treatment, the medical bills and the medical records are the best sources of that information.
How Much Does a Truck Accident Lawyer Cost?
At Blaszkow Legal, we represent all personal injury clients on a contingency fee basis. That means that we don't get paid unless you collect money. We are fully invested in our clients' recoveries, and this allows people to get the best representation possible, without worrying how they are going to pay for it.

If we are not able to help you recover monies for your damages, then you don't know us any fee!
Speak to a Richmond Truck Accident Attorney Today!
After you have been injured in a truck accident, you have a lot of things to worry about. Your focus needs to be on getting better, not on being overwhelmed by insurance adjusters, bill collectors, and others. Call Blaszkow Legal today to free your mind, so you can focus on your recovery.
Let us do the heavy lifting, and fight for you! Get Justice with Joe! Call today for a free consultation - 804-762-0190
Contact a Richmond Truck Accident Attorney Today
Joe Blaszkow is an experienced litigator throughout Virginia. He has experience battling all of the insurance companies, and makes sure his lawyers and staff members fight with the same zeal that he does. Blaszkow Legal is devoted to fighting for our clients.

Don't settle for less - call us today!

Serving Richmond, Chesterfield, Henrico, Glen Allen, Ashland, Laurel, and more!