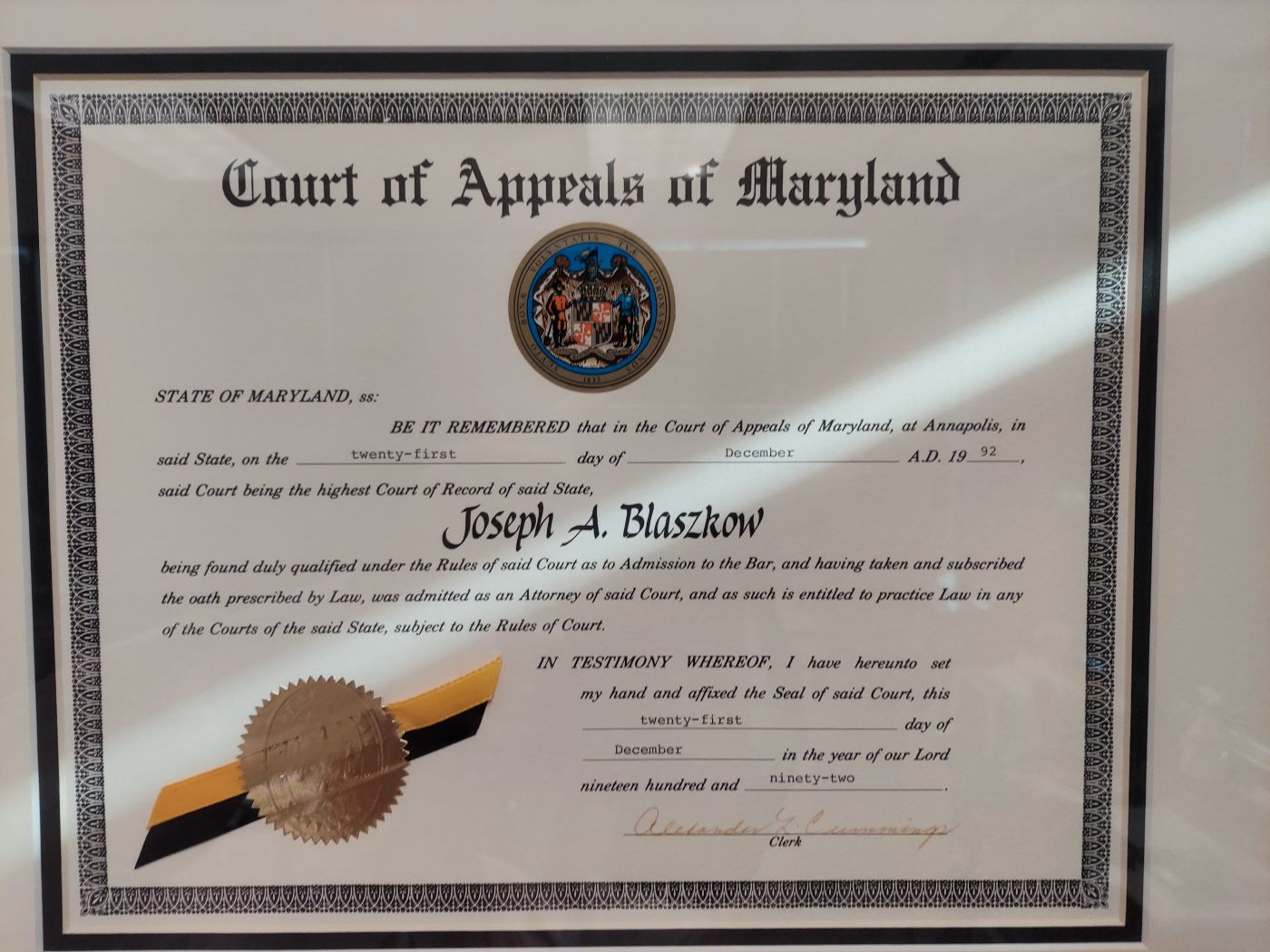 New name, same service: Maryland now has a Supreme Court!
---
Have you heard the news about Maryland's highest court? After years of suggestions and arguments on both sides, the highest court in the State of Maryland is, henceforth, the Supreme Court of Maryland!
Until December 14, 2022, Maryland's court system had been difficult to understand to many non-lawyers, and indeed even lawyers from other states. Attorney Joseph Blaszkow practices in Maryland, as well as Virginia and DC, and he always found it a bit convoluted to try to explain to people how Maryland was set up.
Every county in Maryland has two courts, a lower level court called the District Court (which, for car accident cases, meant those with damages of $30,000 or under), and a Circuit Court (for cases valued above $30,001, or any cases requiring a jury trial).
If an appeal was noted, the appealing party (called the "appellant") would appeal to the Court of Special Appeals, which was the first-level appellate Court. A further appeal would then be sent to the Court of Appeals. This was counter-intuitive for most, as the distinction of "special" suggested that the Special Appeals would be highest - but that suggestion was wrong.
The Court's name change is two-fold, renaming both appellate Courts as follows:
Court of Special Appeals - renamed to the Appellate Court of Maryland
Court of Appeals - renamed to the Supreme Court of Maryland
The call to change the names of Maryland's highest courts has been sounded since the 1967 Maryland Constitutional Convention, where the move received no firm support. The matter seriously came up again in the 1990s, but again, went nowhere. The recent change, however, included voter initiatives, and was ultimately successful.
As an interesting fact, the judges sitting on the now-former Courts of Appeals (regular and Special) were not called "Justices," as in the US Supreme Court. Instead, in Maryland, they remained Judges. This lead to the now-retired Chief Judge of the Court of Appeals, Robert Bell, to quip that "there was no justice in Maryland."
This renaming is not likely to change the practice of law in Maryland, generally or with respect to the car accident and personal injury cases that Blaszkow Legal handles routinely. Instead, the change will help people to more naturally understand the make-up of the Maryland Court System, and navigate same.
The attorneys at Blaszkow Legal are both admitted to practice in Maryland and Virginia (Mr. Blaszkow also is admitted to the Bar in DC, too).