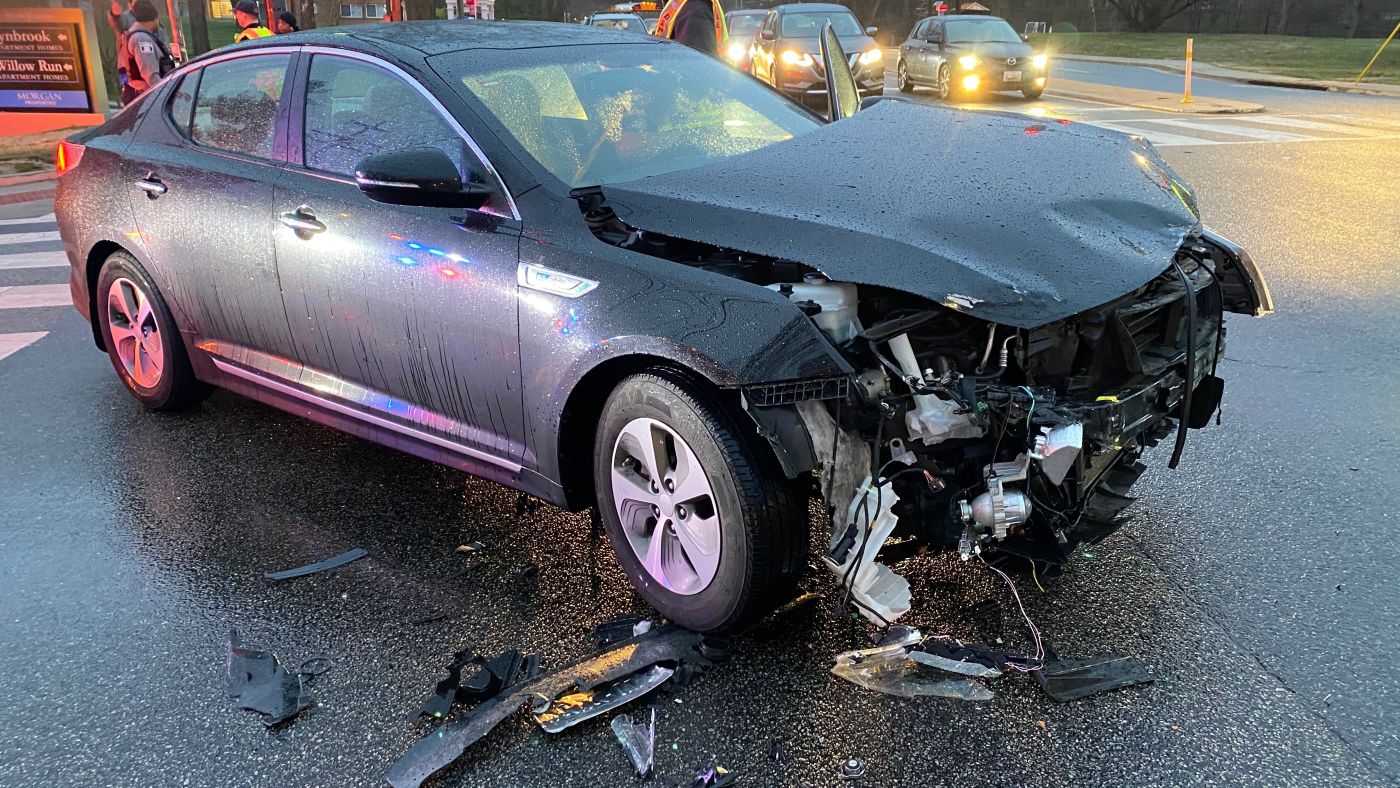 How Do I Obtain A Copy of My Virginia Police Report After a Car Accident?
---
If you have been involved in a motor vehicle collision anywhere in Virginia, the first thing you should always do is call the police. Anyone who tells you that you don't need to get the police involved should be raising a whole host of red flags in you. You should always call the police. It doesn't matter when your accident is, or where the accident happened. If the police say they are not going to come, then that is a determination that they should make. Always always call the police.

Calling law enforcement is important, because there are many things that calling the police will accomplish. The police are able to help secure the scene, to call in additional resources such as the fire department or ambulance, and will also help to control traffic to keep the scene safe until tow trucks can arrive.

In certain instances, the police will help facilitate the exchange of information. This is the required exchange of information between the drivers of both vehicles, as well as all of the insurance coverage that is involved.

In most cases, responding police officers will complete a police report.
The Virginia Police Crash Report
In Virginia, police reports for "reportable" car accidents are completed on a form called an FR300. This is a form created by the State Police and the Virginia Department of Motor Vehicles, that is designed to be uniform across all agencies in the Commonwealth. (Note - if your accident happened on federal property, such as Fort Belvoir, the DOD Police do not use this form).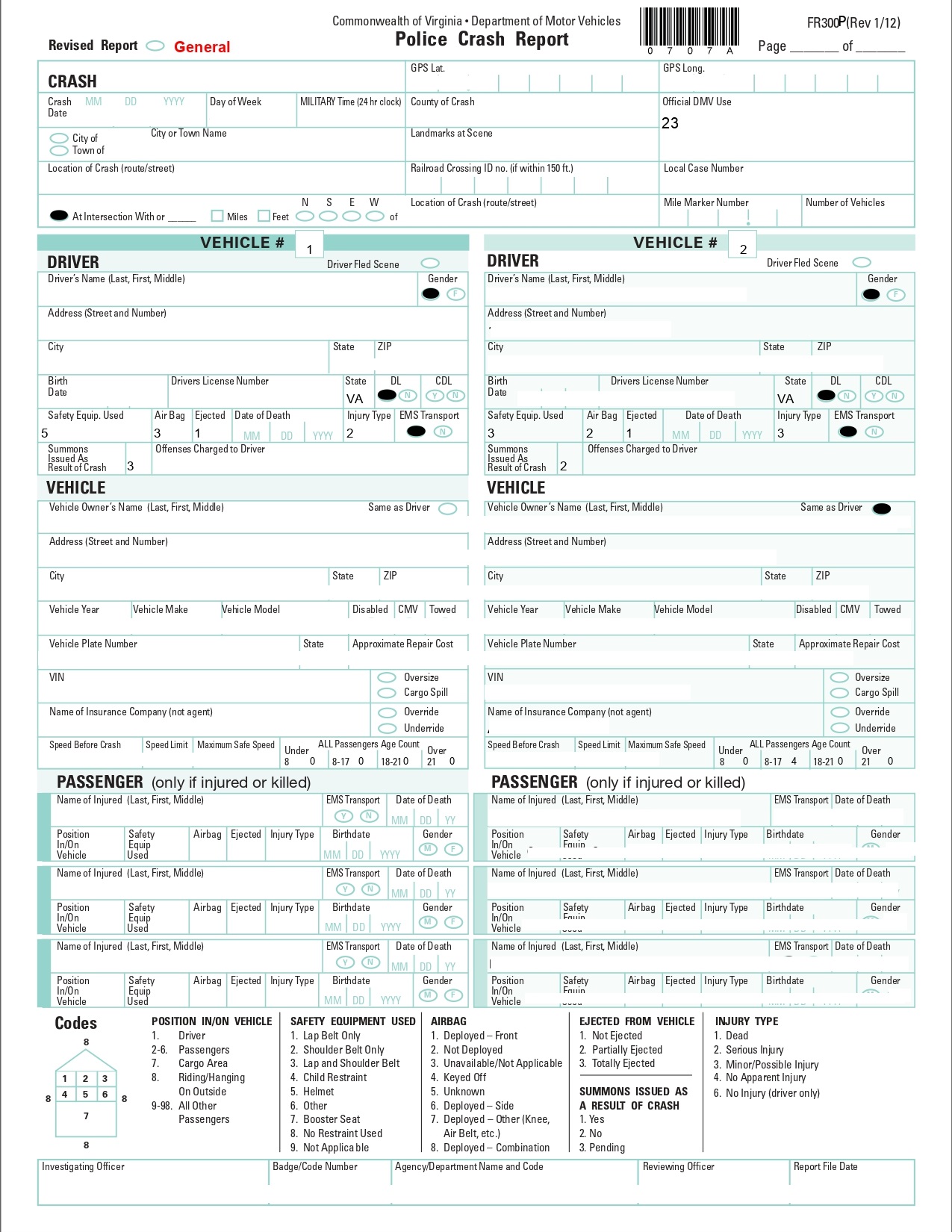 The police report includes important information:
The parties involved. The first page, and any added pages, will have the basic indexing information of those involved, such as drivers, passengers, insurance information, make and model of vehicles, VIN numbers, and other important details (This information will also tell you whether or not the other driver was issued a citation)

Contributing factors. The next pages contain bubble sheets where the officers will note some specifics about the crash, such as was the vehicle a commercial vehicle? Was the driver distracted? What was the direction vehicles were going?

Crash diagram. At the end of the police report, the officers generate a diagram of the scene of the crash, and sometimes the happening of the accident, if several different things occurred in the course of the collision, such as one vehicle striking two or three other vehicles.

Narrative report. The end of the crash report will contain the officer's recitation of what he believes happened in the course of the accident. This will be based on his conversation with all of those involved parties, and potentially, after a more thorough investigation such as reviewing camera footage.
How Do I Get a Copy of the Crash Report?
Police crash reports are not available right away. There is some information on the internet, that suggests that police reports are ready within 24 hours - this is correct in the eyes of Virginia law, but when a report is written is not the same as when it is available. As a practical matter, the officer who writes the report has to get the report approved by a supervisor. Usually this is a sergeant or lieutenant. In some departments, once the police report is approved, it then is sent to their Records Office where it can be obtained by the public, and the parties involved.

Other police departments, such as the Virginia State Police and the Fairfax County Police, utilize the Virginia Department of Motor Vehicles to release their reports. These departments upload the police report to a system called TREDS, which is an exchange of information from the police agencies and DMV. The reports then has to be reviewed by DMV staff, approved, and ultimately filed into their system. Sometimes the DMV will reject a report, and send it back to the original agency for correction. This can be a bureaucratic nightmare for someone trying to get a report, because we have seen police reports bounce back and forth between the DMV and the originating police department a few times.

Generally, we find that police reports are ready for release approximately 7 days after the accident.

If your police report has been sent to the DMV, then you can obtain a copy of it by requesting it through this address:
Custom Records Work Center, Room 514
Virginia Department of Motor Vehicles
P.O. Box 27412
Richmond, Va. 23269
Requests can be faxed to (804) 367-0390, but must be accompanied by a copy of your ID or Drivers License.

The Virginia Department of Motor Vehicles charges $8 for a copy of any police report that they store.

Different police agencies (that don't use DMV) charge different rates for the reports. Some will issue a copy of it to involved parties without a charge.
Correcting Errors in the Police Report
Sometimes, when you review a police report, there is incorrect or inaccurate information in the report. Sometimes these errors are harmless, but other times they have to be corrected. If a police report needs to be corrected, you should speak to your attorney to contact the police department and the investigating officer to get these corrections made right away, and then obtain a copy of the amended or corrected report.
Why Didn't the Police Officer Write a Report After My Car Accident?
Sometimes we find that not all police officers will write police reports after car accidents. Every police department has a different standard as to when they do and do not generate a report. Virginia Code 46.2-373 requires police officers to write police reports when 1) there is a death, 2) when there are injuries the officer knows about, or 3) the property damage is estimated to be in excess of $1,500.00.

It is important to remember that police officers have no specific training on how to value the damage to a car. This is entirely within the officer's discretion.
Police Reports for Accidents That You Were Not Involved In
Under limited circumstances, people can sometimes obtain police reports for accidents that they were not directly involved in. For example, if there was a serious crash near your house, and you want to know what happened, you can sometimes submit a request for this information under the Virginia Freedom of Information Act. However, any reports released to non-involved parties will be heavily redacted.
Contact a Virginia Car Accident Lawyer Right Away
If you have been involved in a car accident that was not your fault, and were hurt as a result, you have the right to file a claim for your injuries and the other damages that you sustained. Accidents usually happen through someone' else's negligence, recklessness or carelessness. If that has happened to you, don't try talking to insurance companies alone - insurance companies will try to take advantage of people who are unrepresented! Always remember that insurance companies work for their stockholders, but we work for you!

Call Attorney Joe Blaszkow and his team today for a free consultation anywhere in Virginia!
---
---
Appendix - Where To Get Your Police Crash Report
Alexandria Police Department, Information Services Division, 3600 Wheeler Ave., Alexandria, Va. 22304
Cost - $5.00 (Note - check must be payable to the "City of Alexandria," not the police department)
Arlington County Police Department, Attn: Accident Reports, 1425 North Courthouse Road, Arlington, Va. 22201
Cost - $10.00
Fairfax County Police - via Virginia DMV.
Cost - $8.00
Chesterfield County Police - via Virginia DMV.
Cost - $8.00
Henrico County Police Division, Criminal Records Unit, PO Box 90775, Henrico, VA 23273-0775
Cost - $5.00
Loudoun County Sheriff's Office, Records Section, P.O. Box 7200, Leesburg, Va. 20177
Cost - $10.00
Maryland State Police, Central Records Division, 1711 Belmont Avenue, Baltimore, Md. 21244
Cost - $4.00
Metropolitan Washington Airport Authority Police (MWAA)
online: https://www.crashdocs.org/
Montgomery County Police (MD), Public Safety Headquarters, Records Division, 100 Edison Park Drive, Gaithersburg, Md., 20878
Cost - $10.00
Prince George's County Police (MD), Police Records Center, 4923 43rd Avenue, 3rd Floor, Hyattsville, Md. 20781
Cost - $10.00
Prince William County Police, Records Services Division, 8400 Kao Circle, Manassas, Va. 20110
Cost - $3.00
or online: https://eservice.pwcgov.org/apps/crashrptb/
Richmond Police Department, Records Unit, 200 W. Grace St., Richmond, Va., 23220
Cost - $5.00
Virginia State Police - via Virginia DMV.
Cost - $8.00
Washington DC Metropolitan Police Department, Public Documents Section, ATTN: Accident/Incident Reports, 300 Indiana Avenue NW, Room 3075, Washington, DC 20001
Cost - $3.00 (Note - check must be payable to the "DC Treasurer," not the police department)