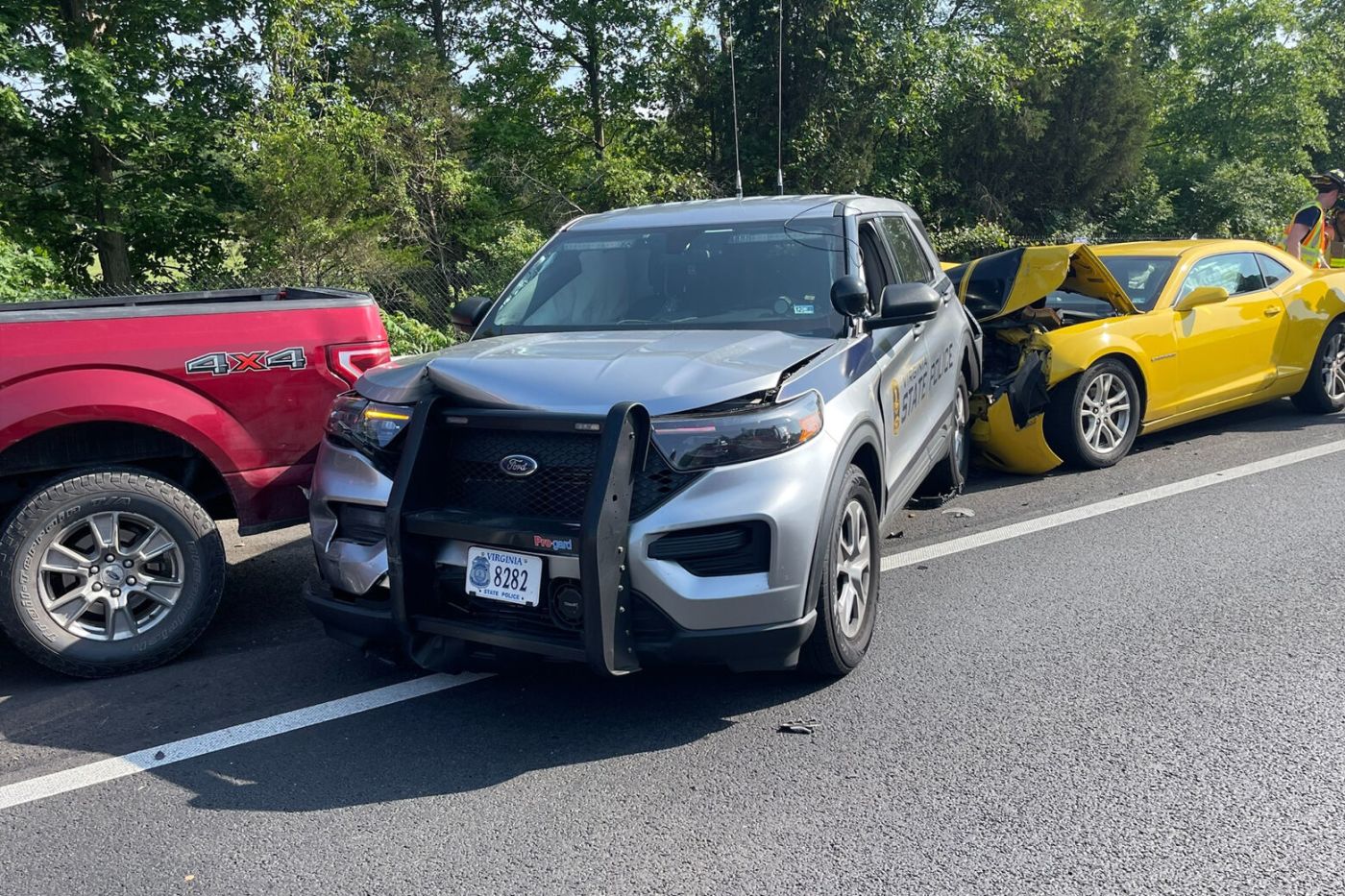 VIRGINIA STATE TROOPER STRUCK ON I-66
May 16, 2023
FAIRFAX COUNTY - May 16, 2023
A Virginia State Trooper was injured in the line of duty today when a speeding motorist struck the rear of the Trooper's car, near the Manassas Rest Area.
The Trooper was walking back to his vehicle when the speeding vehicle ran off the right side of I-66 and onto the shoulder, where the Trooper and his vehicle were. This vehicle slammed into the back of the Trooper's Ford Explorer SUV - the State Police vehicle then hit the trooper, himself! The State Police vehicle also hit the back of another vehicle, a pick-up truck, behind which the VSP unit was stopped.
As the Trooper was struck, he was thrown into the right-most lane of the Interstate. However, thankfully, he was not struck by another driver.
The driver of the vehicle, later identified as Khadija Sayyid, was arrested and charged with reckless driving.
The State Trooper's vehicle had its emergency lights activated at the time of the incident.
---
Speeding and Reckless Driving in Virginia
Speeding is one of the leading causes of car accidents in Virginia. Especially on busy Interstates, like I-66, drivers have to contend with aggressive motorists who do not only speed, but sometimes weave in and out of traffic, change lanes without signaling, and otherwise drive in unsafe manners.
Additionally, as here, drivers who speed often "over-drive" their cars, meaning that the car's ability to perform exceeds the driver's ability to adequately control the car. When this happens, the drivers lose control, and cause collisions such as the one described above.
Does the Trooper Have a Claim?
Absolutely! The Trooper was injured, and he was working at the time. As with any Virginian who is involved in a car accident, he has the right to seek prompt medical attention. Because the Trooper is at work, he should notify his supervisor of the work injury, to meet the conditions for filing a Virginia Worker's Compensation claim. He should call a Virginia car accident attorney as soon as possible.
Worker's Compensation is the process set up to get injured workers medical care for injuries that happen at work. Worker's Comp is not a determination of negligence.
However, because the Trooper's accident happened at work, the Trooper has two claims:
How Are These Two Claims Different?
A Worker's Compensation claim is how your medical care is paid for. Worker's Comp claims are heard before the Virginia Worker's Compensation Commission, which as the name implies, exclusively handles these cases.
A Third-Party claim is a claim injuries and other damages against a person who causes those injuries - but that person cannot be an employee where you work, nor can you file a claim against the employer. For example, the vehicle that hit the Trooper's car was another Virginia State Police vehicle, then the Trooper would not have a Third-party claim - he would only have a Worker's Comp claim.
Third-Party claims rise and fall on negligence.
What If I Have Been Injured At Work?
Any person who has been involved in a car accident, whether in a vehicle or as a pedestrian, should call Blaszkow Legal right away to find out which claim needs to be pursued, to get you the compensation that you deserve for your injuries. If you have been injured in an accident that was not your fault, call us today: 703-879-5910
---
Photo Credit: Virginia State Police
---
Note: When creating these blog posts, our team of writers utilizes external sources, including local and state news sources, social media platforms, police accident incident reports, state police accident reports, and at times, eyewitness accounts. Please contact us immediately if you discover any incorrect information so that we can update the post with the most current, accurate information available.
Disclaimer: This post is not a business solicitation, and none of the information provided in this blog post should be interpreted as medical or legal advice. If you have been injured in an accident, seek immediate medical attention and contact an attorney immediately. This post's featured image was not captured at the actual accident scene.