RICHMOND, VA BICYCLE ACCIDENT ATTORNEYS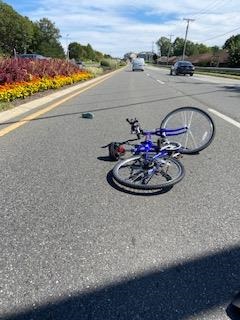 Bicycling is a great way to exercise, while simultaneously getting around town, and keeping your carbon footprint low. However, bicycling can also be extremely dangerous, as many people find out to their cost. Even in bike-friendly cities like Richmond, accidents can and do happen, and these bike accidents can seriously injure or even kill bicycle riders.

Attorney Joe Blaszkow knows the dangers of riding a bicycle around town, better than most attorneys. He is a bicycle rider himself, and participates in the Salisbury See Gull Century Ride every year. If you have been hurt in a bicycle accident that wasn't your fault, then you may be entitled to file a claim for compensation. Don't let the insurance companies take advantage of you. Get Justice with Joe Blaszkow and call an experienced Richmond bicycle accident lawyer today!
---
Richmond Office:
7824 Shrader Road, Richmond, Va. 23294
804-273-8929
Alexandria/Northern Virginia Office:
5270 Shawnee Road #102, Alexandria, Va. 22312
703-879-5910
Hablamos Espanol!
---
What Should I Do After a Richmond Bike Accident?
If you have been hurt in a bicycle accident, there are several things that you can do right away to protect your case, and to start holding the at-fault motorist accountable for their negligent actions:
Call the police. Even if you are not sure exactly what town or area you are in, always call 911. The emergency alert systems are designed to track your location, and get emergency services to you right away. Calling the police will help to create evidence of exactly where the accident happened, and when. Never let someone tell you that you don't have to call the police!

Identify the driver. Getting the driver's car insurance information is not enough, because that insurance card only tells you who owns the vehicle, and who the named insureds are. But your case is against the driver, not the owner of the car. Always get a picture of the driver's state-issued driver's license!

Take lots of pictures. In the digital world, you can't have too many pictures. You want pictures of where you were riding, of your bicycle, of any injuries that you have sustained, of the car that hit you, and of anything else that may have any relation to the case, no matter how remote.

Get witness information. Never rely on the police to get all of the witness information, because sometimes they do not write everyone's information down, and other times, they won't release that information without a subpoena. You always want to get the name, address, phone number, and email address of anyone who is nearby at the time of the accident.

Get medical treatment. If you have been involved in a bicycle accident, you need to get to an emergency room right away. Don't brush it off and think you will be fine, because the trauma of being struck by a vehicle can be severe, and it can cause internal injuries that you may not be able to recognize yourself. Consider that a bicycle is being hit by a 2000-lb machine, and you also have probably fallen from a standing position, hit the ground as well. Always get checked out!

Call Blaszkow Legal. You need to speak to an attorney right away, because the insurance companies are always going to be working to attack your case, and deny it outright. Virginia law gives them a lot of ammunition to do so, so always be prepared.

With respect to your bicycle, don't try to buff it out, or repair it right away. Wait to talk to your attorney, because they may want to preserve the bicycle as evidence, depending on the damage. With our firm, we will almost-always send our investigator out to get more pictures and more evidence.
Contributory Negligence and Virginia Bicycle Accidents
Contributory negligence, sometimes called "pure negligence," "strict negligence," or "the 1% rule" means that a person who is even one-percent responsible for an accident, cannot recover for his or her injuries. This is a very high burden, and it is the number one argument that insurance companies use to deny and attack claimants' cases.

This argument that insurance adjusters will use is one of the main reasons why you need to contact a Richmond bicycle accident lawyer right away. Anything you say to an insurance company can and will be used against you. You never want to speak to an insurance adjuster without the benefit of counsel.
Injuries from Richmond Bicycle Accidents
Bicycle riders don't have a lot of protection other than a helmet when they're out on the road, coming and going to work, or just riding around town for fun. These injuries can sometimes be catastrophic, and can impact your life in many ways that you can't anticipate. Some of the common injuries that we see include:
Head trauma

Concussions

Lacerations

Road rash

Broken bones and fractures

Sprains and strains

Post accident infections

Bone dislocations
Causes of Bicycle Accidents in Richmond
Bicyclists are vulnerable when they are riding around town. The injuries that are suffered in these collisions can be severe, and can even be fatal. However, most of the bicycle accidents that we see are entirely preventable if car drivers would use more care, and pay full time and attention to the roadway.
Some of the most common causes that we see in Richmond bicycle accidents, and indeed, throughout Virginia, include:
Distracted driving. Distracted driving is illegal in richmond, and throughout the Commonwealth. However, people do it anyway. From cell phones to infotainment systems, many people do things while driving that take part of their focus off of the roadway, and can easily lead to serious bicycle accidents

Failing to stop at intersections. Red lights and stop signs are laws, not merely suggestions. However, when drivers ignore these traffic control devices, they can cause serious injuries with other vehicles, including bicyclists.

Aggressive and Reckless driving. When Richmond drivers try to weave in and out of traffic, and break multiple laws, this recklessness and carelessness poses serious risk not only the other drivers, but also bicyclists on the side of the road. Many aggressive drivers will attempt to pass on the shoulder, where many bicyclists are riding.

Drunk driving. Drunk drivers have significantly impaired reaction time and response time, and will not see a bicyclists nearby. Some of these strong drivers will strike bicyclists, and not even realize that they have been in an accident

Dooring. A bicyclist can suffer severe injuries If a driver is not paying attention, and opens a door immediately in front of the path of the bicyclist, causing the bicyclist to fly over the door.
If you have been injured in any of these kinds of bicycle accidents, you may be entitled to compensation for your injuries. Contact our bicycle accident attorneys right away!
How to Minimize the Risks of Richmond Bicycle Accidents
Bicycle riders can be proactive and work hard to practice good bicycle safety, thus reducing the risk of bicycle accidents. This these safety suggestions apply to all kinds of bicycle riders, from morning commuters to people exercising, to those just riding around town.
Ride on the right side of the road

Purchase and wear a reflective vest or clothing

Buy a comfortable helmet and wear it while riding

Purchase a small strobe light for the rear of the bicycle or a backpack or helmet

Obey all traffic lights, stop signs, and other traffic control devices

Maintain your bike, specifically the air pressure in the tires
See other tips from the Virginia Department of Transportation here.

By following these safety measures, you take the wind out of insurance adjusters' sails, because you take away some of the arguments that they want to use against you!
Damages Resulting From Bicycle Accidents in Richmond
If you have been hurt in a bicycle accident, and the accident was caused by the negligence of another driver, you have the right to file a claim for your damages. Damages is a legal term that represents all of the ways that the accident has impacted you, and impaired the many aspects of your life. Some of the most common elements of damages include:
Pain and suffering

Emotional distress

Post traumatic anxiety

Time lost from work

Loss of earning capacity

Medical expenses

Future medical expenses

Permanent injury

Scarring

Disfigurement

and more
As a reminder, we have to prove these damages, not just allege them. One of the many tasks your attorney will do is locating the evidence to prove and maximize your claim.
Timeline for Filing a Bicycle Accident Claim in Virginia
You want to speak to an attorney right away, so that you can open up your claim, and we can begin investigating, and begin working to get you the compensation that you deserve.

There is no minimum time to file a claim against a private party for an accident, but you generally want to open up a dialogue with the insurance company as soon as possible, and you want to engage an attorney right away for that purpose. An experienced Richmond bicycle attorney is going to begin investigating the accident as soon as you become a client. Investigations have to be done thoroughly, but they also have to get started immediately because evidence can be lost over time. Camera footage can be overwritten, and witnesses' memories can fade.
Statutes of Limitations for Virginia Bicycle Accidents
Bicycle accidents are considered personal injury claims under Virginia law. All personal injury claims are governed by a two-year statute of limitations. This means that the injured person has two years to file it a lawsuit against the person/entity who caused the accident.

If the accident caused the death of the bicycle rider, then this becomes a wrongful death claim. A wrongful death claim must be filed within two years of the date of death. If the bike rider died at the scene of the accident, then the two years begins to run immediately. However, if the bicyclist died as the result of their injuries, for example 2 months later, then the two-year period does not begin until then.

However, there are other deadlines that you have to worry about! If, for example, the accident was caused by a government vehicle (local, county, state federal), then there are other notice requirements that have to be met under specific laws. If notice is not served on time, you give the government a procedural reason to attack and deny your claim. Always talk to a Richmond bicycle accident lawyer immediately after the crash.
How Can I Afford to Pay a Richmond Bicycle Attorney?
At Blaszkow Legal, we handle all personal injury cases on a contingency fee basis. That means we don't get paid unless you collect money - just like the commercials say! There is absolutely no risk for you to call us today, and see if you have a case. You can always call an attorney!
Contact our Richmond Bicycle Accident Attorneys Today
If you have been injured in a bicycle accident that was the fault of a car driver, bus driver, truck driver, or other person, then you need the help of an experienced Richmond bicycle accident lawyer to help you get the compensation that you deserve. At Blaszkow Legal, we begin aggressively investigating and prosecuting our clients' cases right away. We know how damaging these cases can be, and how the ripple effect of a bike crash can impact every facet of your life.

The attorneys, paralegals, and investigators of Blaszkow Legal have been working to fight for injured Virginians for over 40 years, and we will put our experience to work for you! Contact us today for a free consultation, or to schedule a virtual intake appointment for your convenience.
Get Justice with Joe Blaszkow!
Attorney Joe Blaszkow and his team are ready, willing, and able to fight for you, anywhere in Virginia! Our lawyers have experience in almost every court in the Commonwealth, up and down I-95.

Call today for a free consultation, and see if you have case!