RICHMOND, VA DUI CAR ACCIDENT ATTORNEYS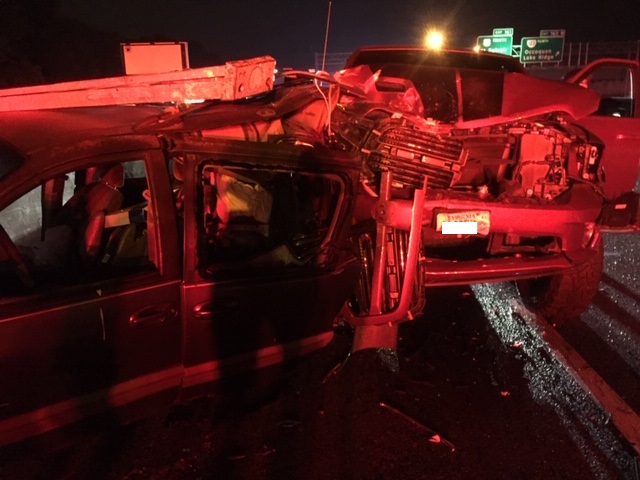 Car accidents happen with stunning regularity in the Richmond Metro area, but some accidents can be worse than others. While many car accidents lead to injuries among innocent people, when these collisions are caused by drunk drivers, innocent people can be victimized all over. This can lead to feelings of frustration, fear, and anger among the injured parties.
You do not have to live with this victimization. You can fight back against the at-fault driver's whose negligence and recklessness has harmed you! You have the right to fight, and to hold the DUI driver accountable for his or her actions.
Blaszkow Legal is your first choice for Richmond DUI accidents. We focus our practice on fighting for those people who have been hurt in car accidents caused by the negligence, recklessness, and carelessness of other motorists. We proudly fight for DUI accident victims and their families throughout Richmond, including Henirco, Chesterfield, Glen Allen and beyond.
Virginia Drunk Driving Accidents
Did you know that drunk driving accidents caused almost 7,000 car accidents in Virginia in 2022? It's true, and of those accidents, 4174 resulted in injuries. That's 11 injury-causing accidents every day!!!!
Look at these horrific statistics, and you can see just how common - and deadly - these DUI crashes are.
What Constitutes a DUI?
Virginia law recognizes that a person is intoxicated when their BAC, or blood alcohol content is 0.08% or more. This relates to alcohol-intoxication from beer, liquor, wine, etc.
However, a person can still be a DUI-driver if that person is using illegal drugs, such as heroin, cocaine, methamphetamine, etc. This also includes drugs that have been legalized in certain states, such as marijuana.
A person in Virginia who is operating a motor vehicle while under the influence of marijuana is guilty of a DWI, or Driving While Impaired, also sometimes called a DUI-D, or Driving Under the Influence-Drugs. While law enforcement officers test alcohol-impaired drivers via breath- and blood- tests, there is no current test for the amount of marijuana in a driver's system at the time of a crash.
Injuries Sustained in Richmond Drunk Driving Crashes
Drunk driving accidents throughout the Richmond Metro area are often very frustrating for the people who are hurt, and no small part because innocent people are harmed to a much greater extent than the negligent and reckless drunk drivers themselves! Some common injuries sustained and drunk driving accidents include:
Sprains and strains of muscles

Lacerations

Bruises and contusions

Fractures and broken bones

Bulging discs

Burns

Scarring

Disfigurement
Many times, the negligent drivers themselves do not suffer the same injuries as innocent motorists. This is often due to the drunk drivers intoxicated state, itself.
Filing a Claim Against a Drunk Driver in Richmond
If you have been hurt in an accident that was not your fault, and the at-fault party was a drunk driver, you can hold them accountable! You have a right to file a claim against the drunk driver for all of the injuries that you suffered and the damages that you sustained. Contact an experienced Richmond drunk driving accident lawyer to help bring this claim.
In order to prevail on a claim against a drunk driver, we have to be able to prove that the drunk driver was negligent, and that this negligence was the proximate cause of the accident that caused your injuries.
Investigating Drunk Driving Accidents in Richmond
In any personal injury case, we have the burden of proof to prove not only your damages, but also that the at-fault party was indeed negligent, reckless, and or careless. It is important that we begin investigating right away, to develop all of the evidence we can to make your claim.
The sooner you contact an attorney the better, that way we can immediately begin to locate camera footage and interview witnesses. This information can disappear if you wait too long!
Your Claim for Damages After a Richmond DUI Collision
In your claim against the negligent drunk driver, you are demanding compensation for your damages. Virginia law sets out those things that you can claim, which are differentiated between economic damages and non-economic damages.
Economic damages are generally black and white, in that they are proven by documented evidence such as bills and records:
Medical expenses

Future medical expenses

Time lost from work

Future lost wages

Loss of earning capacity

Property damage
Non-economic damages are less clear-cut, in that they are intangible. We have to prove these elements often through testimony of friends and relatives, and other evidence. Examples of non economic damages include:
Pain and suffering

Inconvenience

Humiliation

Scarring

Disfigurement

Loss of enjoyment of life

Impairment in activities of daily living
Punitive damages is a claim that Virginia law recognizes and allows someone to bring against a drunk driver, if the claim meets certain criteria. If a drunk driver has a blood alcohol content that is 0.15% or more, you may include a claim for punitive damages against that driver.
Punitive damages are specifically designed to punish the wrongdoer, and to set an example to stop other people from using the same conduct in the future. However, this is not an easy process. Most insurance companies will not concede this, and will make you fight.
Attorney Joe Blaszkow was one of the first lawyers in Virginia to successfully obtain an award of punitive damages against a drunk driver, and has been doing so ever since!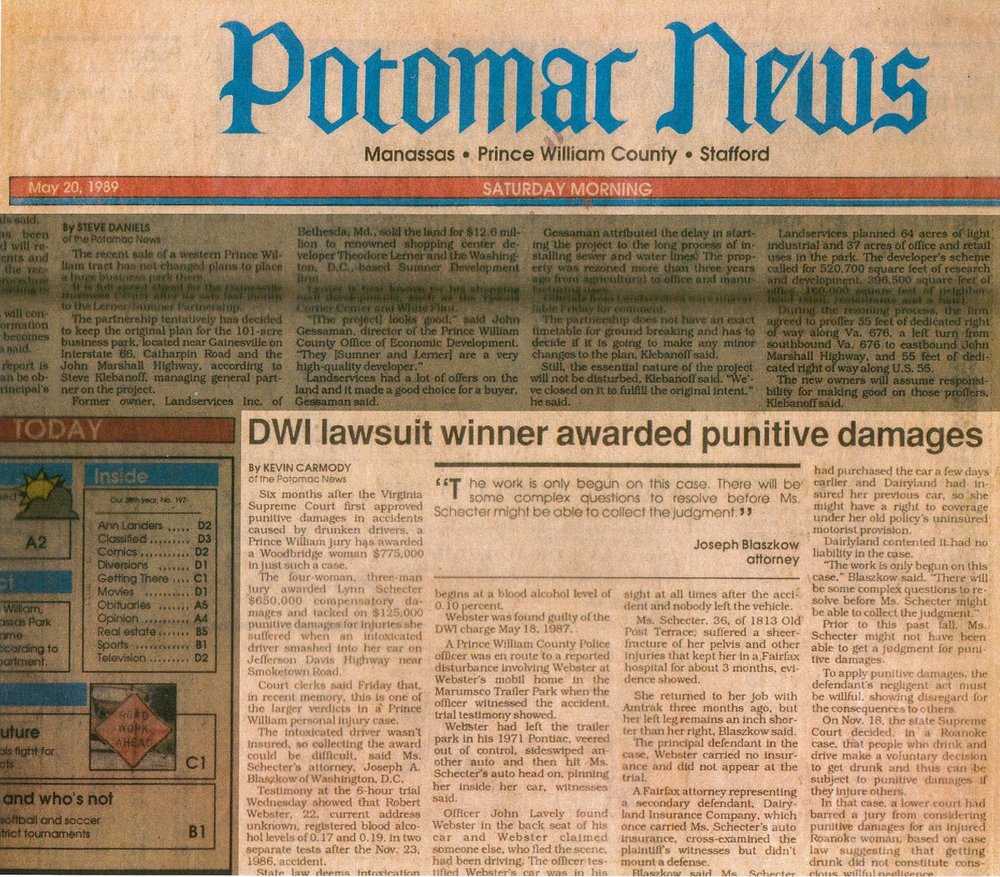 Talking to Car Insurance Companies After a Drunk Driving Crash
We never recommend speaking with any insurance company after a motor vehicle accident, anywhere in Virginia. It is doubly important after a DUI crash, because your claim for damages is generally going to be significant. There is a strong possibility that your claim may also extend to underinsured motorist coverage, which will necessarily involve your own car insurance company. Anything an insurance company can use against you, they will, including the things that you have told them in confidence. The only person who can keep your information completely safe is your attorney.
It is important to bear in mind, that no matter how negligent or heinous the actions of a drunk driver, Virginia is still a contributory negligence state. That means if the insurance companies can argue that you are even 1% responsible for the happening of the accident, they will deny your claim. You never want to give any insurance company any information that they can try to use against you to attack, or to deny your case.
Contact a Richmond Drunk Driving Accident Lawyer Today
If you were hurt in a car accident involving a drunk driver, always contact an experienced lawyer right away. Do not attempt to battle insurance companies and insurance adjusters on your own, as they are doing everything they can to minimize your claim, as much as possible. Their job is to fight for their stockholders, not for you. Call the team at Blaszkow Legal and let us fight for you. We have successfully battled insurance companies across the Commonwealth for our clients, to get them accounts sensation they deserve.
Call today for a free consultation!
Richmond Office:
7824 Shrader Road, Richmond, Va. 23294
804-273-8929
Alexandria/Northern Virginia Office:
5270 Shawnee Road #102, Alexandria, Va. 22312
703-879-5910
Hablamos Espanol!
Get Justice with Joe Blaszkow!
Call Blaszkow Legal today for help anywhere in the Richmond Metro Area, including: Glen Allen, Ashland, Henrico, Chesterfield, Richmond City, and beyond.

We are ready to fight for you, from the moment of the crash, all the way through trial!