WASHINGTON, DC BUS ACCIDENT LAWYERS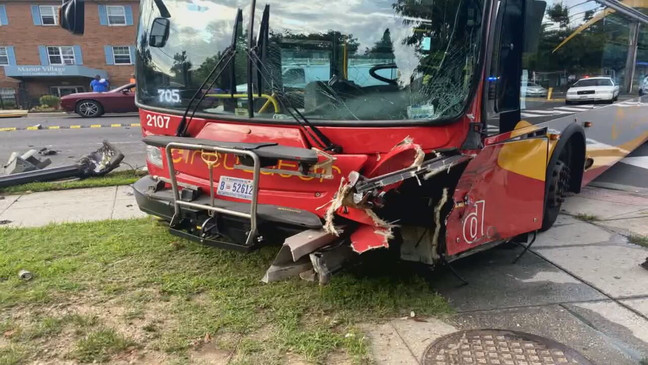 Washington DC, as the nation's capital, is home to numerous bus systems, both public and private. These buses are often driven with considerable Precision by legions of trained and dedicated drivers. However, mistakes are made, and other times, drivers simply act negligently and recklessly, causing collisions that hurt pedestrians, motorists, and passengers on the buses themselves. Bus accidents can be serious, and often injure multiple people.

Depending on which bus you were injured by or on, the claims process can be incredibly complicated and drawn out. While private insurance companies will try to minimize your case, some government entities like the Washington Metropolitan Area Transit Authority (WMATA) are positively lethargic, hoping that people will go away. You need an experienced Washington DC bus accident lawyer to help you fight insurance companies and the government, to get you the compensation that you deserve. Call Blaszkow Legal today for a free consultation!
Do I Need a Lawyer after a Washington DC Bus Accident?
After a bus accident, you should always contact an attorney. The claims process itself is going to be very complex, and an experienced DC bus accident lawyer is going to be able to guide you through that process, and help you to enhance your claim, to get the compensation that you deserve.

It is also important to remember that insurance adjusters, whether they work for a government agency such as Metro, or a private bus company such as Greyhound or Flix, are doing everything they can to minimize your case. It is their job to give you as little money as possible. It is also not their job to tell you what your rights are! For example, if you only paid $500 as a copay for your hospital visit, they are going to be willing to compensate you for that $500. They are not required to tell you that your claim is not just for the money that comes out of your pocket, but for the full price of the medical treatment that was rendered!

An attorney is ethically responsible for helping you with your claim, as the client. We represent your interests, not the bus company's. We will do everything we can to maximize your claim, while the insurance companies are continually trying to attack it.
Liability in Washington, DC Bus Accident Cases
Buses are large transport vehicles that are specifically designed to move a large number of people, efficiently and effectively. They have to be driven with due regard for other motorists, and have to be operated in a safe manner. There can be many instances of negligence in these situations, but the total negligence can go beyond the driver of the bus himself or herself!

Some common causes of bus accidents, where bus driver negligence plays a factor include:
Distracted driving

Bus driver fatigue

Speeding

Driving under the influence of alcohol or drugs

Driving too fast for weather conditions

Aggressive driving

Failing to pay full time and attention to the roadway
The the list above talks about ways in which a driver can be negligent. However, other times the negligence lies with the bus company itself, whether a private company or a government operation. Sometimes this is driven by a desire to cut corners and lower costs, while other times it is done through rushed hiring because of a shortage. Some examples of company or government negligence can include:
Failing to properly train drivers

Hiring unqualified drivers

Continuing to employ unsafe drivers

Reducing driver training requirements

Failing to service and maintain vehicles

Failing to repair vehicle defects

Failing to abide by hours of service requirements

Management requirements of unrealistic bus schedules
There are a few, unique incidents where bus companies themselves have not done something wrong, but a collision happened to do to a defective part - in these instances, claims may be filed against bus- or parts- manufacturers.

Determining negligence, and the responsibility for the injuries sustained, can be a drawn out process, requiring extensive investigation. At Blaszkow Legal, we have a team of attorneys, paralegals, and investigators who are dedicated to doing just that!
Understanding How Bus Companies Work
There are many different buses running around Washington DC, and not all of them stop at predetermined bus stops such like Metro Buses. There are government transit systems, such as the WMATA, and DC ransit, run by the DC Department of Transportation/DDOT. These are government agencies, and filing claims against them is a complicated, but clearly defined process.

Other times, the actual ownership and operation of buses, especially smaller ones, can be shrouded in mystery. For example, many shuttle buses operate between hotels and Metro stations. These are often operated by a private companies, which may even then subcontract the work to more private companies.

Still other buses are privately owned shuttle buses, but are directly hired by the federal government to move employees from parking lots to government buildings and so on. Filing claims when a vehicle is specifically operating for the federal government, can not only involve a regular civil claim, but also the Federal Tort Claims Act.
What Are Common Bus Accident Injuries in DC?
People who are involved in bus accidents, whether they are passengers on the bus, pedestrians hit by the bus, or other motorists who have been hurt in a collision with a bus, can range from mild to severe and even catastrophic. Buses are designed to be larger, so they can transport more people. This means that when they impact something, they are driving with more force, and the sheer inertia of their very design can cause increase the damage that would have been caused by, say, a car.

With respect to bus passengers, those people riding buses are not protected by seat belts! Some people are seated, and others may be standing, and only remaining upright due to a hand on a strap or railing.

Common injuries suffered by people involved in bus accidents include:
Neck injuries

Disfigurement

Soft tissue injuries

Sprains and strains of muscles

Broken bones

Loss of limb

Lacerations

Bruises
Compensation That You Can Claim after a DC Bus Accident
If you have been hurt in a DC bus accident, that was caused by the negligence of the bus driver, or another party, you may be entitled to file a claim for compensation. That compensation is based on numerous elements of your damages. Damages is a legal term of art that attempts to encompass all of the way the accident has impacted you, financial as well as non-financialy.

Some of the common elements of a claim for damages include:
Medical expenses

Future medical expenses

Time lost from work

Future lost wages

Loss of earning capacity

Property damage

Pain and suffering

Post-traumatic anxiety

Diminished value of property

Impairment in activities of daily living
Washington DC Bus Accident Statue of Limitations
A bus accident in Washington DC is governed by DC Code 12-301. Bus accidents are considered personal injury claims, and as such, you have 3 years from the date of the accident to file any lawsuit against the at-fault parties.

Warning! This 3-year deadline is the deadline governed by DC law for actions against private individuals. However, there are other deadlines that you have to worry about or you may lose your claim!
- If your claim is against an an employee or department of the government of Washington, DC, then you have to provide notice to the government pursuant to DC Code 12-309. If you do not meet this notice requirement, the government will be able to attack your claim on procedural grounds.
- If your claim is in any way against the US government or any of its employees, or people acting on its behalf, then you have 2 years to file your claim in accordance with the Federal Tort Claims Act.
DC Bus Accidents and Uninsured Motorist Claims
In standard car accidents where you are hurt by another motorist, if the at-fault driver has no car insurance, then the claim becomes an uninsured motorist claim, which is handled through your own car insurance. In bus accident cases, this can be problematic: WMATA Metro Buses do not have uninsured motorist coverage. They should, but they do not. Some private companies do have this coverage, however.
This leads to nightmare scenarios, where bus passengers are hurt by an accident caused by an uninsured driver - if there was no negligence on the part of WMATA's employees, then there is no claim against WMATA.
In these horrific instances, we investigate potential "household coverages" that may be available, which is when passengers live with blood-relatives who have motor vehicle insurance policies, and that coverage may extend to the injured bus passenger. Always call an attorney to investigate this!
Get Help from a Washington DC Bus Accident Lawyer Today!
The claims process is not quick or easy, especially involving buses. There are many ins and outs in handling these claims, and many people get very frustrated very quickly. But the longer you wait to contact an attorney, the more ammunition you give the insurance companies to attack your claim. Even if you are a passenger on a bus, you still have the burden of proof on you to prove your claim. The sooner you contact a lawyer, the sooner we can begin investigating, and getting the proof that we need to help your claim succeed.

Attorney Joe Blaszkow and his team have been fighting against bus companies of all kinds for over 40 years! Contact Blaszkow Legal PLLC today for a free consultation anywhere in Washington DC, and beyond.
Call 703-879-5910
---
DC Statute of Limitations: https://code.dccouncil.gov/us/dc/council/code/sections/12-301
Claims against DC Government: https://code.dccouncil.gov/us/dc/council/code/sections/12-309.html
Have you been hurt in a DC Bus Accident?
If you have, call a team who is ready, willing, and able to fight for your rights, and get you the compensation you deserve!

These claims can be very complicated - call the team that has fought Metro, and won! 703-879-5910