WASHINGTON, DC BICYCLE ACCIDENT LAWYERS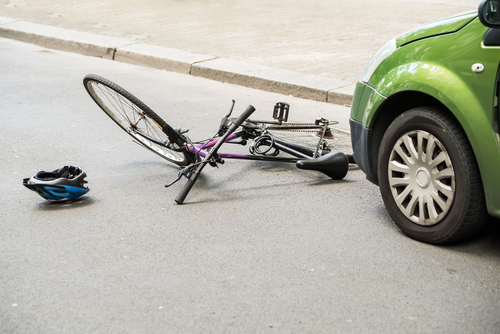 If you have been involved in a DC bicycle accident, chances are you have been hurt. If you're lucky, then you just got a little bit of road rash/scratches, and maybe some soreness. If you are unlucky, then your injuries can be far more severe, and can sometimes include fatal injuries, leaving your family to deal with the grief and serious loss of a loved one. In 2022, 11 bicyclists were killed in traffic accidents in the DMV area!

If you have been hurt in a Washington DC bicycle accident, you may be entitled to compensation from the at-fault party. Contact an experienced bicycle accident lawyer today to find out how we can help you get the justice that you deserve!
Your Claim for Compensation After a DC Bike Accident
After a bicycle incident, you have the ability to file a claim for compensation, as long as your accident was caused by someone else's negligence. These bicycle accidents can be difficult to prove, as the insurance companies like to deflect blame and throw it back at the injured bicyclists, themselves.

Your claim for compensation for your damages is going to include several different elements:
Medical expenses
Bicycle accident medical expenses tend to be high, because after being transported by ambulance, due to the severity of injuries, significant imaging is often required such as X-rays, CT scans, and MRIs. Post-accident surgery may also be necessary, triggering other "hidden" expenses such as anesthesiologists. After the hospital, there will be other medical costs to get you back on your feet, such as physical therapy and rehabilitation. In some severe cases, people who have been hurt may need home health aides and durable medical equipment.
Future medical expenses
Some people will require medical treatment far beyond the life of a case. Some people will require additional surgeries, or may even need certain medical treatment and evaluation for the rest of their lives. Future medical expenses (those that are forecast by a physician) also form part of your claim.
Time lost from work
Time that you are not able to earn is part of your claim for compensation. Some people miss a block of time, after which they are able to go back to work. Other people may not be able to return to their chosen profession, and this is called loss of earning capacity. You may also claim future lost income, where appropriate.
Impairment in activities of daily living/quality of life
Bicycle accidents, and the injuries that come with them, can impact every aspect of your life, and can change the way that you do some of the most mundane tasks. You may have experienced an impact in your hobbies such as working out, bicycling, or painting, to name a few. This impact can be frustrating to you as you have to relearn certain things. This is part of your damages.
Pain and suffering
Pain and suffering is a non-economic damage, in that it is not easily quantified. Pain and suffering is a legal term of art that talks about all of the ways, from emotional damage to other impairments, that represent how the accident impacted you.
Talking to insurance companies
After a bicycle accident, you should never ever, ever speak to an insurance company without an attorney. The insurance companies will always try to approach you if they do not know you are represented by an attorney. Anything that you say can and will be used against you (by them!).

Blaszkow Legal strongly recommends that you never sign anything or speak to any insurance company after you have talked to a lawyer!

It is extremely important to remember that this guidance includes and extends to your own car insurance company, as well! The sad truth is that many people are driving around Washington DC without car insurance. In that instance, or if the other driver doesn't have enough insurance, you may have an uninsured or underinsured motorist claim, and the people from your own insurance company are going to be baffling against you. Always call a lawyer right away!
Investigating a DC Bicycle Accident
The burden of proof is always on the claimant, or person bringing the claim. This means that you have to prove that the other person was negligent, and that you were not. The more evidence that you can gather, the better all of you will be to stop them from trying to attack your claim.

As soon as you call Blaszkow Legal, we set our team of attorneys, paralegals, and investigators to work on investigating your case. We will immediately begin doing everything we can to figure out what happened, and who is responsible!
Police Reports and Fire reports. One police officer will be responsible for compiling a police report, which will include a narrative of what happened, and identify those who are involved. In some instances, the police will issue a citation to the at-full driver. This can be evidence in your case.

However, it's in serious incidents, we responding police officer who writes the report will not be the one to do the complete investigation. In Washington dc, the major case reconstruction unit will sometimes compile additional reports that we will have to get.
- The fire department will often have a narrative report written, as well, usually by the scene, or incident commander.

Pictures. It is important to get as many pictures as possible of the scene of the accident. This includes everything relating to the accident, such as pictures of property damage, signs, traffic lights, damage to the bicycle, pictures of your injuries, and damage to the other person's vehicle.

Witnesses. It is extremely important to get the contact information of witnesses, if possible. While some police officers will record this information, in many instances they will not release it to you or your attorney. This can hold up investigating and interviewing these people until their contact information has gotten by a subpoena. You can do an end run around this long wait by getting the name, address, phone number, and email of any witnesses to your case.

Camera footage. Surveillance cameras in Washington DC are all over the place, but we have to locate these cameras right away. Some systems will record for 30 days or longer, whereas cheaper and smaller systems will only record for a day or two before the footage is over written. It is extremely important that we locate these cameras, and that we get to work on preserving the footage, even if the owner of the camera, such as a government building, won't give it to us. They will preserve the footage, while we get a subpoena.
Contributory Negligence, Fault and Washington DC Bicycle Accidents
Washington DC is a jurisdiction that practices contributory negligence, just like Maryland and Virginia. That means if the at-fault insurance company can allege that you have been in part responsible for the accident, then you cannot recover. However, this law no longer applies to pedestrians and certain bicycle riders, due to a new law in the District.
Washington DC now classifies bicyclists as "vulnerable users of the highways", under DC Code 50-2204.52.
A bicyclist in the District may pursue a claim if the bicyclist is less than 50% liable for the accident that caused the injuries.
The Statute of Limitations and DC Bicycle Accidents
Under DC Code 12-301, you have three years from the date of the accident to file a lawsuit. However, you should never wait to talk to a lawyer. You need to call a bicycle accident lawyer immediately, because there are other deadlines that may be impacted.

If, for example, you were struck by a federal government vehicle, or your bicycle accident was caused by a DC government employee, then there are notice deadlines that apply, that are far shorter than that 3-year period - some deadlines can run as early as six-months after an accident!
Call an Experienced Bicycle Accident Lawyer
Attorney Joe Blaszkow has been fighting for people injured in Washington DC for over 40 years. He is also not just a lawyer, but he is an avid bicycle rider himself. You should never fight insurance companies alone. Call an experienced DC bicycle accident lawyer today, and let us help you get Justice with Joe!
Call 703-879-5910-483 for a free consultation!

Get Justice with Joe!
Attorney Joe Blaszkow and his team fight for injured people all over the DMV, from Downtown DC to Dumfries and beyond.

Call 703-879-5910 for a free consultation!